TBM-3S Avenger AS.3/4/6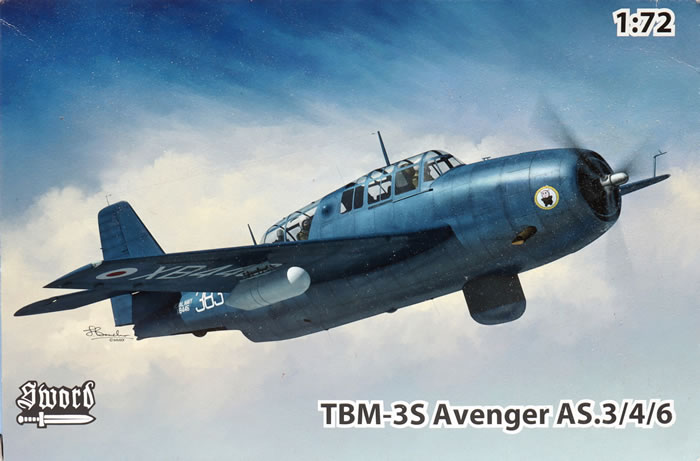 TBM-3S2 Avenger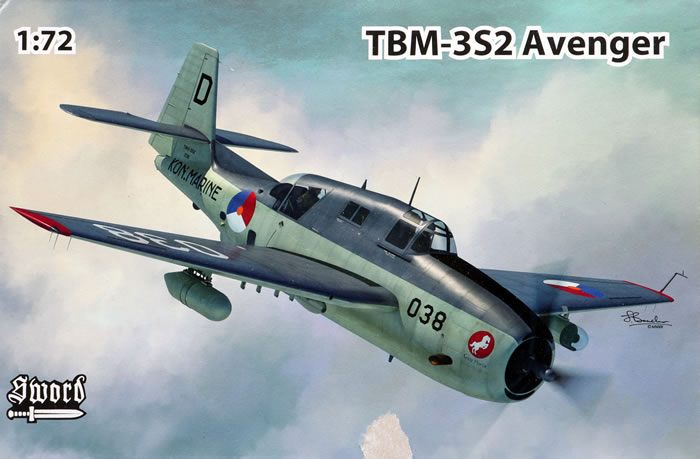 Sword, 1/72 scale
Reviewed by Graham Carter
The Grumman TBF Avenger (designated TBM for aircraft manufactured by General Motors) is an American torpedo bomber developed initially for the United States Navy and Marine Corps, and eventually used by several air and naval aviation services around the world.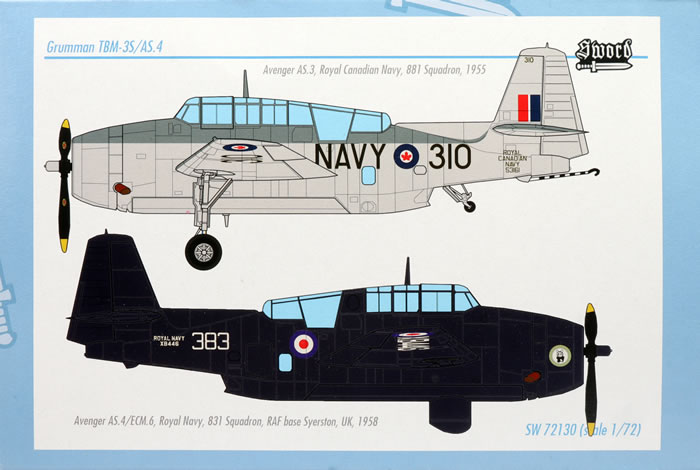 The Avenger entered U.S. service in 1942, and first saw action during the Battle of Midway. Despite the loss of five of the six Avengers on its combat debut, it survived in service to become the most effective and widely-used torpedo bomber of World War II, sharing credit for sinking the super-battleships Yamato and Musashi (the only ships of that type sunk exclusively by American aircraft while under way) and being credited for sinking 30 submarines.
Greatly modified after the war, it remained in use until the 1960s.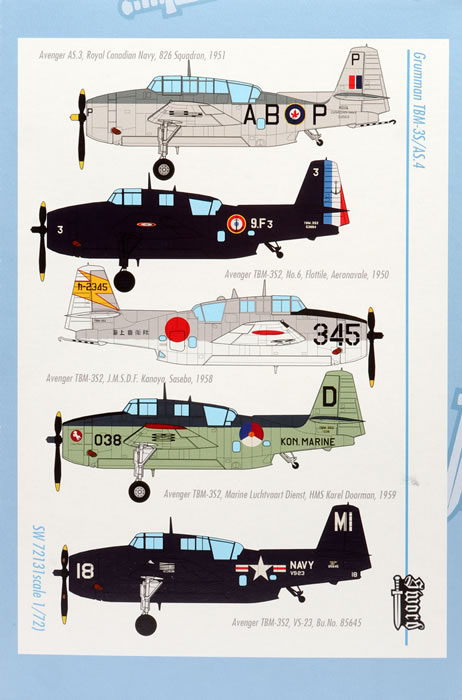 The TBM-3R was a post-WWII conversion of the TBM-3 to a seven-passenger, Carrier Onboard Delivery (COD) transport.
I am reviewing these two kits together as the sprues are identical and only a couple of transparent parts, as indicated in the instructions, need to be swapped to produce the different variants illustrated on the boxes.
Sword is a Czech kit maker which has gone from strength to strength. I have recently built one of their very early releases, the Beech 17, and these new kits are streets ahead in design, presentation and instructions. The only thing that has not changed is that the parts still come in very flimsy end-opening boxes!
These kits are part of a series of Avenger models that Sword has produced, having previously released a 3R, 3U and 'Guppy' variants. Most of these kits have many common parts, the 'Guppy' being an exception The box 'tops' have nice illustrations of one of the aircraft inside, respectively a Dutch TBM-3S2 Avenger and a Royal Navy TBM-3S ECM6. There is something a bit odd about the tail/elevator area in this latter drawing, it looks a bit out of kilter to my eyes but it is only the box top! The rear has colour profiles of the other decal choices, two in the case of the AS3/4/ECM6 boxing and five in the other boxing.
As short-run kits there are no locating pins/holes so care will need to be used when joining up major parts. All components are inside a zip-lock bag which comprise two large sprues in mid-grey plastic, one smaller clear sprue, decals and the A5 instruction booklet. Parts are nicely moulded with surface finish as good as any of the major manufacturers, with only a little seam clean-up required on some of the smaller parts.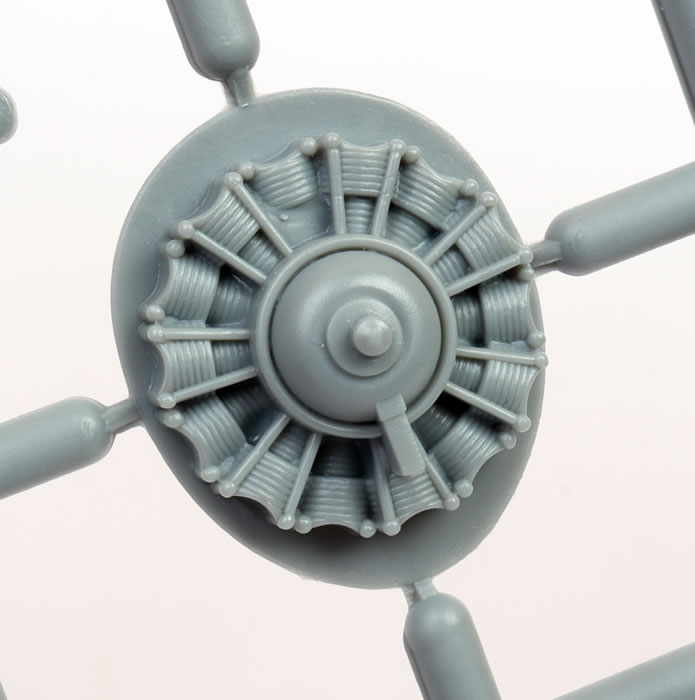 There is good deal of moulded detail on most of the interior parts and the exterior panel lines are finely done, although the control surfaces could do with more definition.
The searchlight housing is nicely done, as is the undercarriage with its torque links and good tyre treads, and the transparencies are very clear and thin.
The u/c bays will look great with their detailed interior made up of four parts. Only the rear canopies differ between the two variants and the relevant parts are indicated in the instructions.
Speaking of which, the A5 instruction booklet is excellent, made up of a front page description of the aeroplane and its users, then a parts map and six pages of clear construction stages with colour call-outs throughout. There are also details of where to drill holes in the wings to take the different store pylons. The last pages give 4-view decal and camouflage drawings for all schemes with colours by name but no paint manufacturers are noted.
For SW72130 the two choices are:
Avenger AS.3, Royal Canadian Navy , 881sqn, 1955, an

Avenger AS.4/ECM.6, Royal Navy, 831sqn, RAF base Syerton, UK, 1958.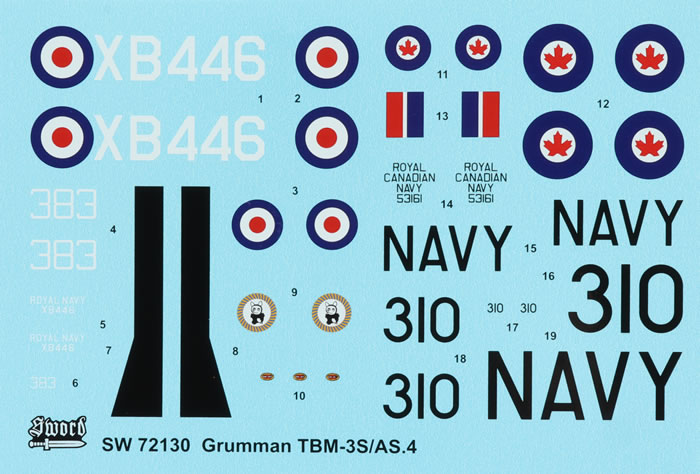 For SW72131, the five choices are:-
Avenger AS.3, Royal Canadian Navy , 826sqn, 1951,

Avenger TBM-3S2, No.6 Flottile, Aeronvale, 1950,

Avenger TBM-3S2, J.M.S.D.F. Kanoya, Sasebo, 1958,

Avenger TBM-3S2, Marine Luchtvaart Dienst, HMS Karel Doorman, 1959, and

Avenger TBM-3S2, VS-23, USN, B.No. 85645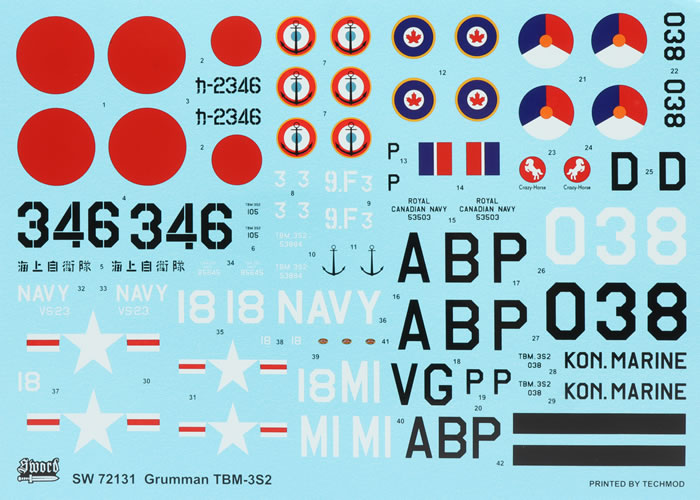 Decals are very nicely produced with good register and colour density.
In summary, these are two excellent kits of two not-so-warlike variants of the well-known Avenger series and both are far better than the ancient Airfix and FROG kits and a bit more detailed and refined than the Academy/Minicraft kits.
Recommended to all 1/72 naval aircraft modellers.
Thanks to Sword Models for the review samples.
---
Text Copyright © 2021 by Graham Carter
Images Copyright © 2021 by Brett Green
Page Created 10 March, 2021
Last updated 10 March, 2021
Back to HyperScale Main Page