Messerschmitt
Bf 109 E-3a Emil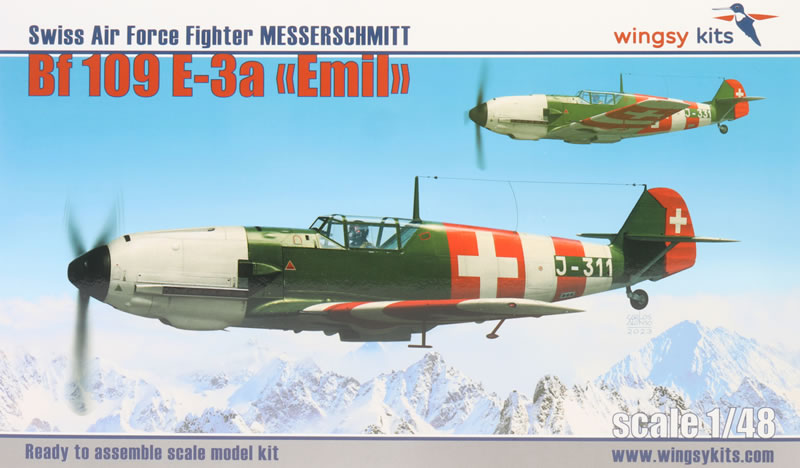 Wingsy Kits, 1/48 scale
S u m m a r y

Item No.
Wingsy Kits Item No. D5-12 - Messerschmitt Bf 109 E-3a Emil
Contents and Media:
110 parts in grey injection moulded plastic; five clear parts; 43 photo-etched metal parts; one die-cut self-adhesive vinyl canopy masking sheet; markings for four aircraft.
Scale
1/48
Price:

USD$35.00 plus shipping available online from Wingsy Kit's web store

and specialist hobby retailers online and worldwide

Review Type:
FirstLook
Advantages:
Nice to have a dedicated Swiss Bf 109 E3a straight from the box; crisp and fine surface textures; high level of detail; excellent moulding quality; useful options; high level of research and accuracy.
Disadvantages:
Some won't like the absence of fabric or tape texture on control surfaces; thick seat pan walls; propeller blade profile slightly off.
Recommendation:

Wingsy's latest 1/48 Emil is just as good as its others – well detailed, crisply molded, and clearly designed with passion. Wingsy's Bf 109 E-3a will give you some of the brightest markings available on any Bf 109. At USD$35.00, this kit represents outstanding value too.
Reviewed by Brett Green

The Messerschmitt Bf 109 A, B, C and D were powered by the Junkers Jumo engine. The Spanish Civil War presented the opportunity to test these revolutionary fighters in action, and they proved their worth in combat with Legion Condor over the skies of Spain. 
The Messerschmitt Bf 109 E series was the first of the family to be fitted with the Daimler Benz DB601A engine, resulting in a significant improvement in performance. 

Two variants were manufactured in parallel - the lightweight Bf 109 E-1 which retained the wing-mounted 7.9mm machine guns of the earlier Bf 109 B, C and D; and the Bf 109 E-3 which was fitted with one 20mm MG FF cannon in each wing. Both variants featured two additional 7.92mm machine guns in the cowl.
1,540 Bf 109 E-3s were delivered. They saw first saw service with Legion Condor in Spain, then continued in widespread action alongside the Messerschmitt Bf 109 E-1 in Poland, the Low Countries, across the English Channel in the Battle of Britain and in the Balkans.
The Messerschmitt Bf 109 E-3a was the export version of the Emil. It differed in armament, radio and other details.
The Swiss E-3a was fitted with two 7.45mm FI-MG 29 machine guns over the engine and a 20mm Oerlikon FF-K cannon in each wing.
The new fuselage guns required a significant reworking of the engine cowling. The new design is visibly more streamlined.
Another obvious difference is the spade grip at the top of the control column.
80 Swiss E-3a export versions were built.
---
Emil in 1:48 scale
There is no shortage of 1:48 scale Messerschmitt Bf 109 E kits. The Bf 109 E-3 has been kitted by a number of model companies.
Although the Tamiya and Hasegawa kits are still widely available, I think the choice for the best Bf 109 E in 1:48 scale is balanced between the Airfix and Eduard kits at the moment.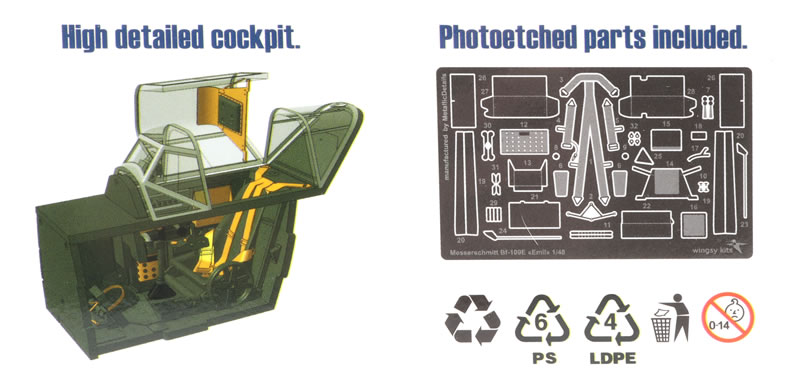 Both these kits are very good in terms of detail, accuracy and fit. I think Eduard has the edge in detail and surface textures, while the Airfix kit is slightly more accurate.
Wingsy kicked off their Bf 109 family with an E-1 kit in June 2021. I started working on the E-1 as soon as it hit my desk and found it to be a a very enjoyable build with almost flawless fit.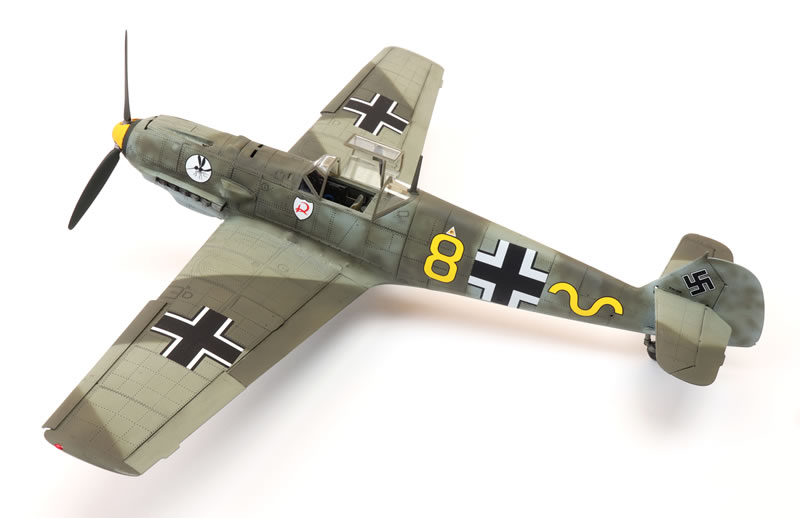 Wingsy quickly followed up with Bf 109 E-3, E-4 and E-7 versions.
Now Wingsy has expanded the family to include the export version, the Bf 109 E-3a. This kit provides a specifically Swiss variant straight from the box.
The differences between this kit and the other E kits is a brand new sprue with a new fuselage, a smoother gun cowl, supercharger intake, spade grip and other details.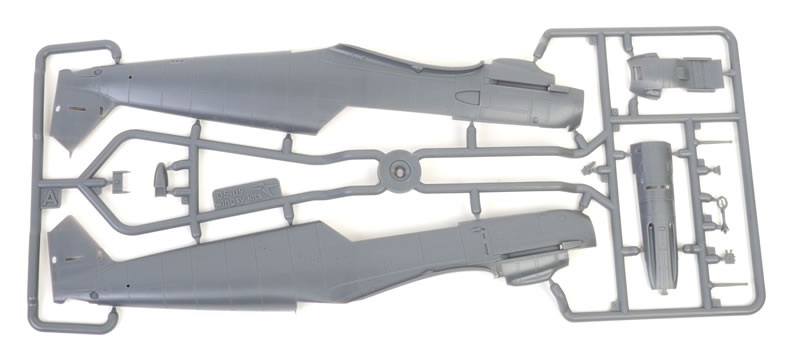 The new more streamlined cowling looks like a cross between the Bf 109 E and the more Bf 109 F.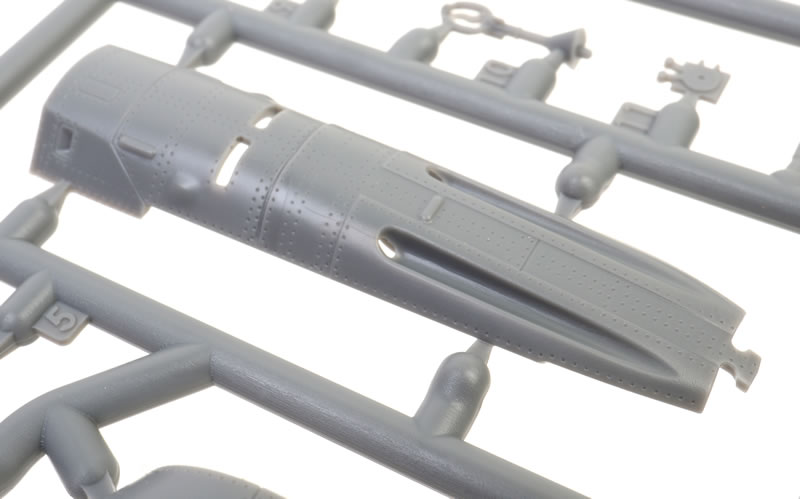 This variant should be a popular choice with modellers due to the bright colours and markings of the Swiss neutrality schemes.
Under the attractive box art we find a modest 110 parts in grey plastic with ten of those pieces not used for this time, five parts in clear plastic (two not used), a photo-etched fret; decals for four marking options and vinyl canopy masks.
If you like recessed rivets, you'll love this one. Lines of rivets supplement crisply recessed panel lines.
The riveting on the new fuselage seems to be a bit more restrained than earlier releases - not a bad thing at all.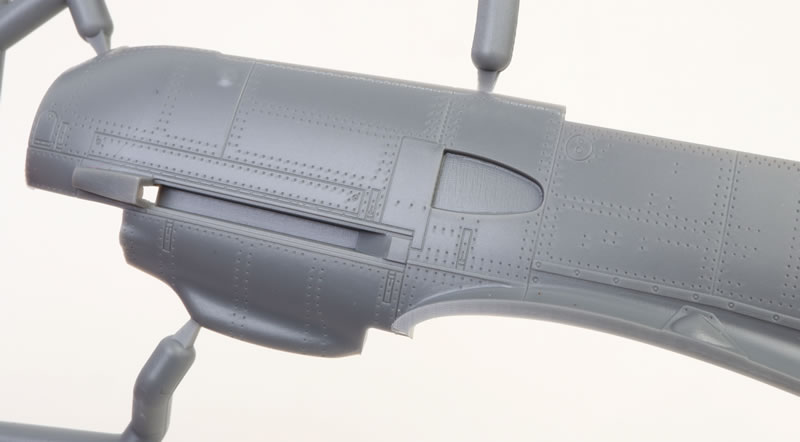 In contrast, fabric texture is almost non-existent on the control surfaces.
The rudder, ailerons, elevators and flaps are all separate parts. The instructions don't mention it but I am sure that these could easily be posed deflected if you wish.
The leading edge flaps are separate parts too. These may be posed dropped or raised.
Cockpit detail is good. The instrument panel is made up from two plastic parts with raised bezels, over which decals and photo-etched parts are applied. The pilot's head armour is a multi-part photo-etched assembly.
The pilot's seat is a bit chunky with thick sides, unlike the thin pressed metal of the real thing.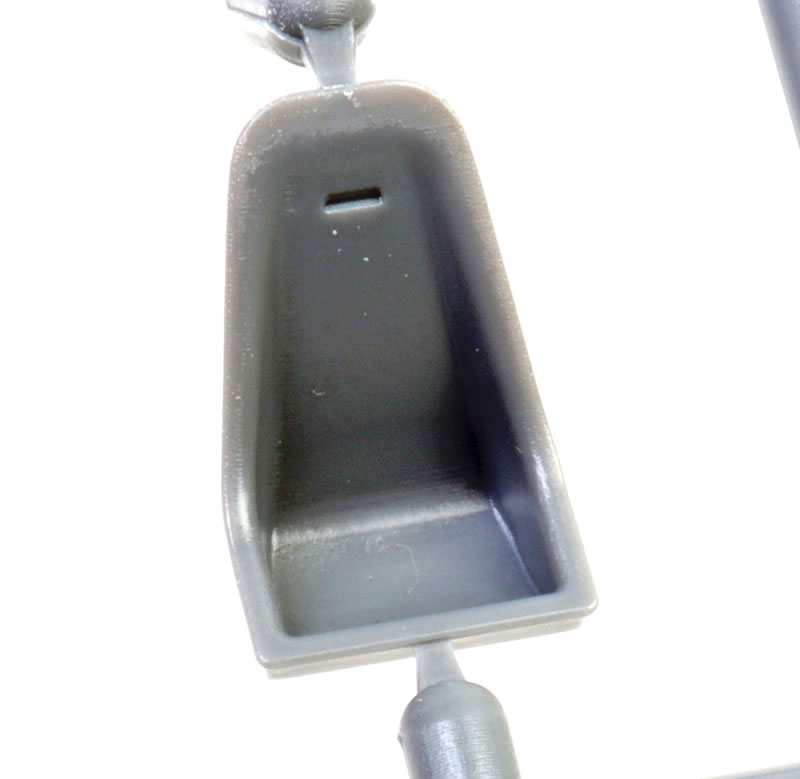 The propeller blades look too broad to my eye, particularly approaching the tip. They look more like the bread knife profile of the later VDM 9 propeller blades used on the Bf 109 F and G rather than the slender and slightly pointier blades of the Bf 109 E. The difference between the Wingsy blades and the Airfix propeller is very stark indeed, but I actually think the Airfix blades are too skinny. S.B.S. Model offers a replacement propeller and spinner assembly that treads the Goldilocks path - just right (to my eye anyway).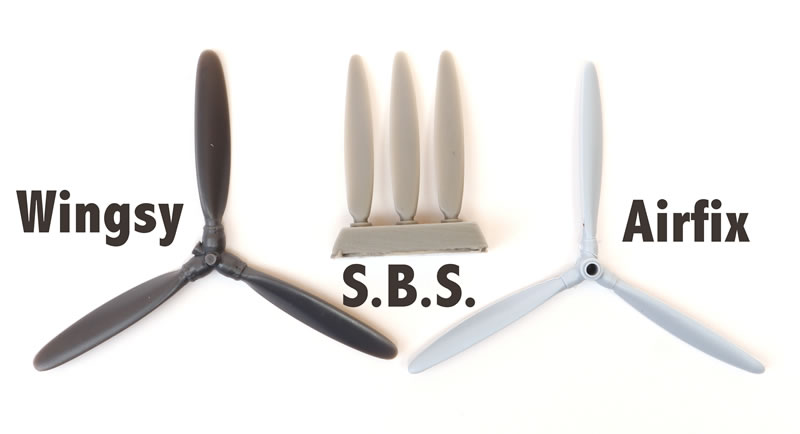 Photo-etched parts are supplied for the harness straps, the upper and lower exhaust shrouds, the radiator flaps and other smaller details.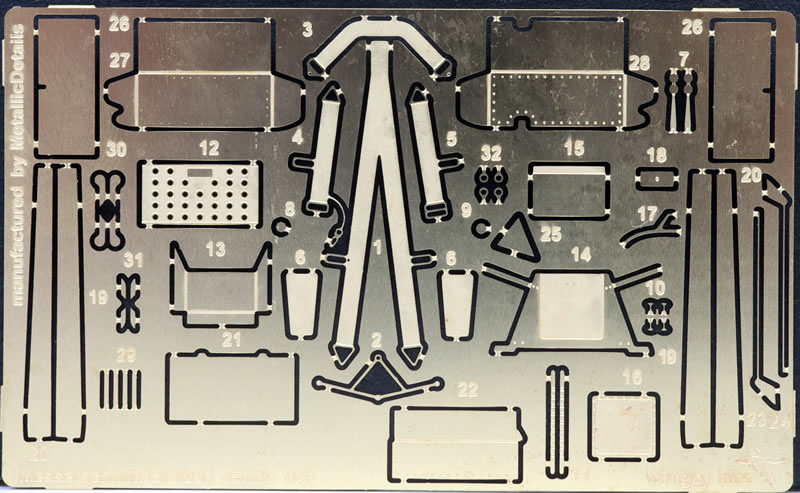 Parts breakdown is conventional, with full-length fuselage halves and the wings split into full span lower and separate halves for the upper wings. No inserts or cut-outs are required on the wings. You will only need to hollow out the cannon opening in the wing leading edge.
The clear parts are thin and free from distortion.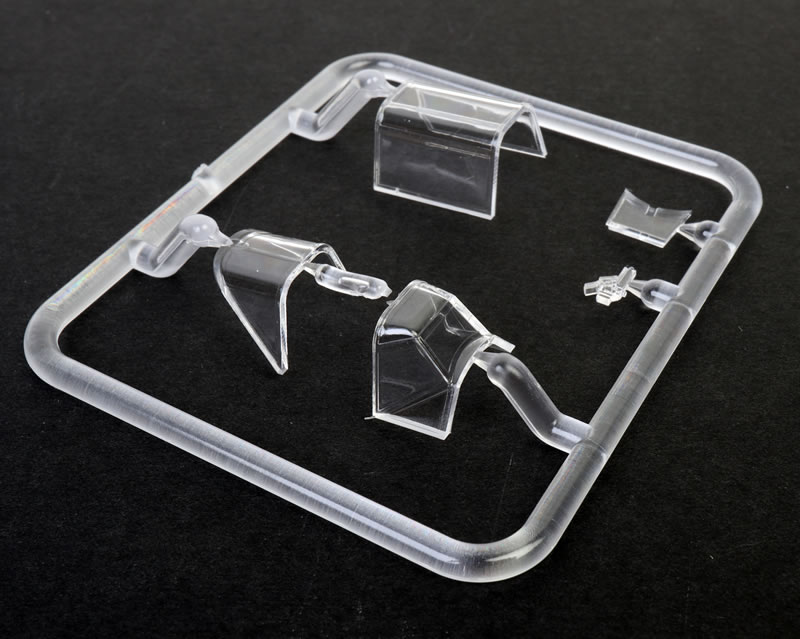 The centre canopy section is moulded separately and may be posed open.
The separate armoured glass and a clear moulded gunsight are also included.
---
Markings
Decals are supplied for four colourful Swiss Bf 109 E-3as.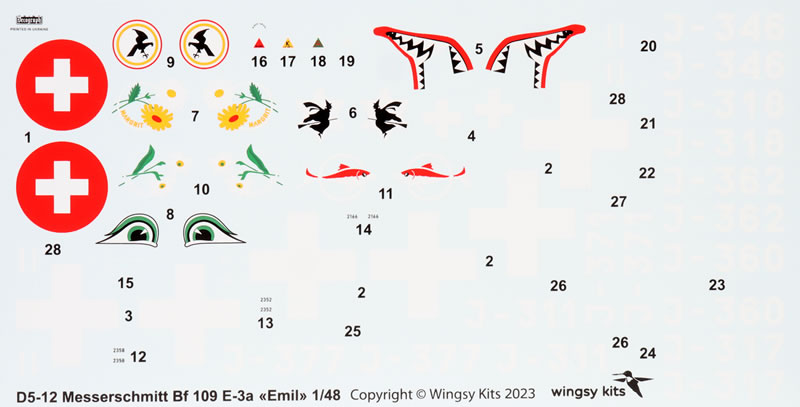 Decal colours and registration look good.

Stencils are supplied on a small separate sheet.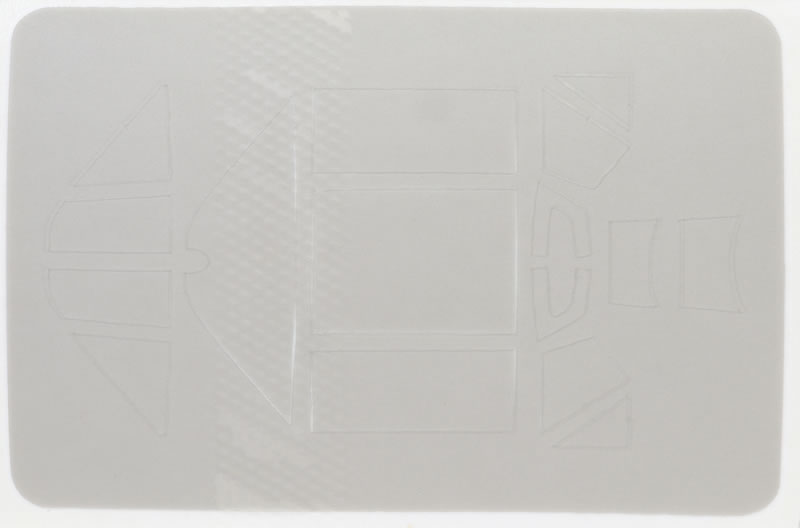 Self-adhesive die-cut vinyl masks are also included.
Wingsy's latest 1/48 Emil is just as good as its predecessors – well detailed, crisply molded, and clearly designed with passion. Wingsy's Bf 109 E-3a will give you some of the brightest markings available on any Bf 109.
At USD$35.00, this kit represents outstanding value too
What a time we live in. Modellers are now blessed with the choice of three excellent 1/:48 scale Bf 109 E-3 kits.
Vive la difference!
Thanks to Wingsy Kits for the samples
---
Review Text and Images Copyright © 2023 by Brett Green
Page Created 30 September, 2023
Last updated 30 August, 2023
Back to HyperScale Main Page
Back to Reviews Page