Sukhoi Su-57 Felon
Russian Fifth-Generation Fighter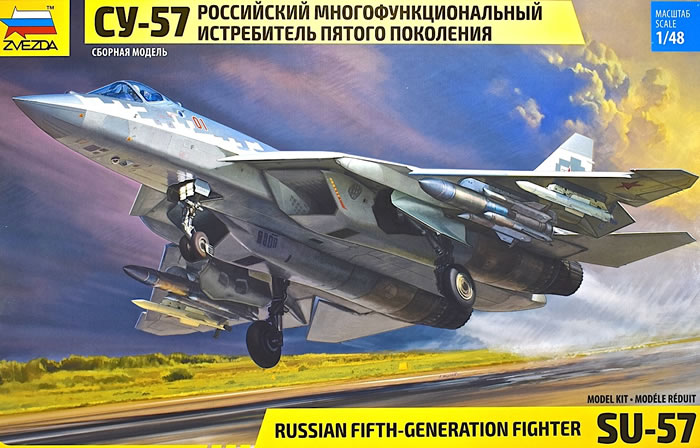 Zvezda, 1/48 scale
S u m m a r y :

Description and Item No.:

Zvezda Kit No. 4820 -Sukhoi Su-57 Felon

Contents and Media:

240 parts in grey styrene, 9 in clear, and two decal sheets with markings for three airframes.

Price:

Scale:

1/48

Review Type:

First Look

Advantages:

Engineering is simple as is the parts layout. For such a large model the parts count is relatively low suggesting a quick build.

Disadvantages:

The upper fuselage half has a surface texture that will require re-surfacing (sanding/buffing) prior to paint. Surface details are sufficient but soft in some areas.

Recommendation:

With its simple layout and low parts count, this should be a quick build that results in an impressively large model that can be finished in one of multiple colorful schemes. Highly Recommended.
Reviewed by John Miller

The Sukhoi Su-57 (NATO reporting name: Felon) is a stealth, single-seat, twin-engine multirole fifth-generation jet fighter being developed since 2002 for air superiority and attack operations. The aircraft is the product of the PAK FA, a fifth-generation fighter program of the Russian Air Force. The Su-57 is the first aircraft in Russian military service to use stealth technology. Its maiden flight took place on the 29th of January, 2010 and entered service on December 25, 2020. The Su-57 is the world's fourth operational fifth-generation stealth fighter aircraft after the F-22, F-35, and J-20.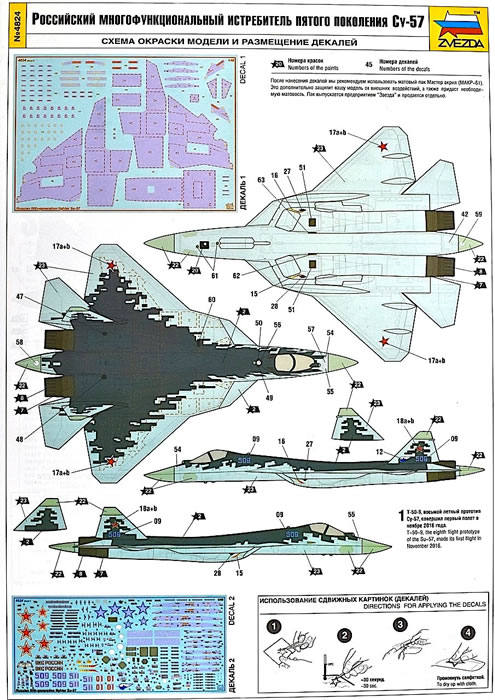 According to the Sukhoi Company, the fighter is designed to have supercruise, supermaneuverability, stealth, and advanced avionics to overcome the previous generation of fighter aircraft as well as ground and naval defenses. The Su-57 is intended to succeed the MiG-29 and Su-27 in the Russian Air Force. The prototypes and initial production batch are to be delivered with a highly upgraded Lyulka AL-31 variant (the AL-41F1), as an interim powerplant, while an advanced clean-sheet design engine, currently designated the Izdeliye 30, is in the final stages of development and expected to be available after the mid-2020s. The aircraft is expected to have a service life of up to 35 years.
In the stiff cardboard box we've come to expect from this manufacturer are 6 light gray sprues (individually bagged), one clear sprue, and two decal sheets. The initial impression is one of simplicity. This is a large kit with a surprisingly low parts count.
The kits engineering is simple utilizing large, upper and lower fuselage-wing halves. The upper half of the fuselage has a surface texture that will have to be smoothed prior to paint and finishing.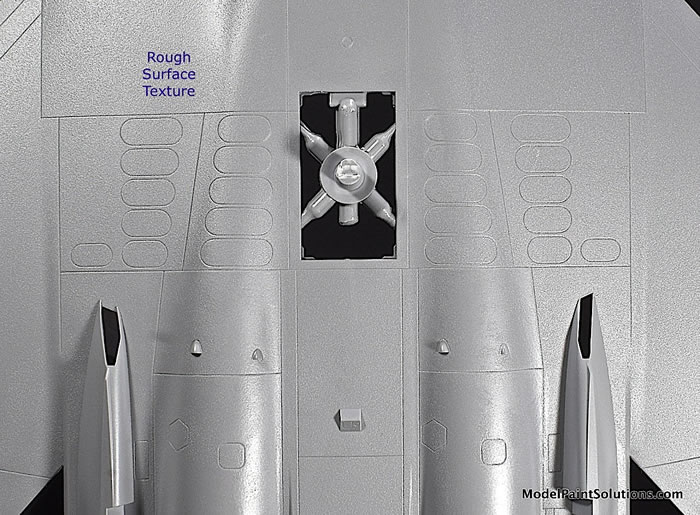 The lower fuselage-wing half has a smoother texture overall. Surface details are sufficient although a bit soft in some places. The recessed panel lines are well done overall however some areas will benefit from refreshing with a scriber.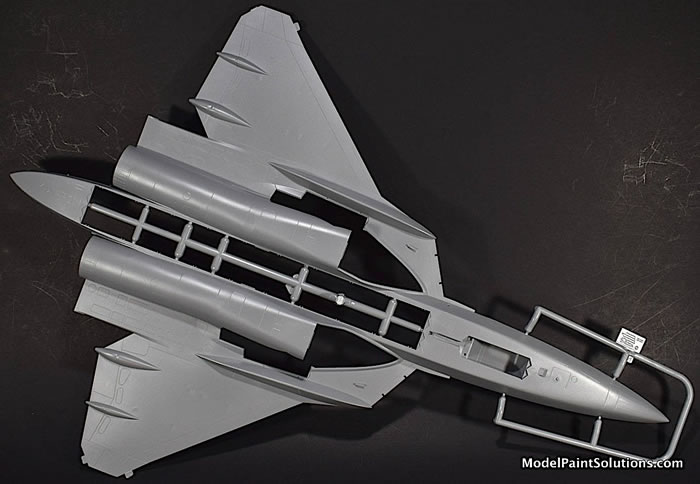 Throughout the eight page instruction,s reference is made to assembling either Version1 (aircraft on ground with open canopy) or Version 2 (aircraft in flight mounted on a display stand). In addition to the canopy and pilot figure, differences between the two versions include opening the internal weapons bay, and the positioning of both the leading edge vortex controllers and elevons.
As usual, the build begins with the cockpit. The nicely molded five-piece ejection seat fits into the one-piece tub the side panels of which are augmented with crisply printed decals. Likewise, details for the main instrument panel are provided as a decal.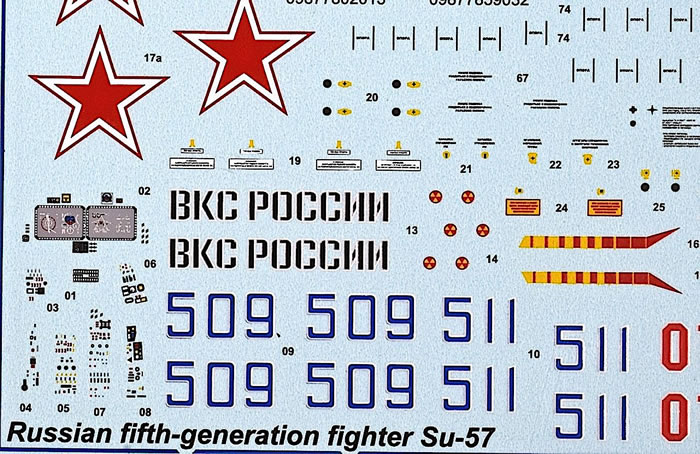 For those inclined to add pilot figures, two are provided as a consequence of the well-molded lads being included on a sprue that is duplicated for other parts.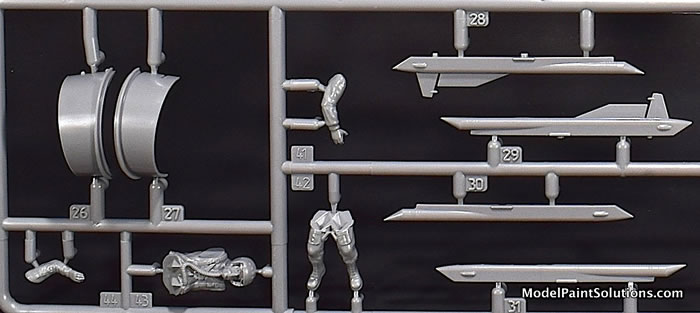 The rather substantial internal weapons bay can be built posed open and sufficient detail is provided in the form of six nicely molded missiles. The intake trunk/main gear well assemblies are next in sequence followed by external panels on the ventral intakes.
The cockpit and intake trunk/main gear wells are then trapped between the upper and lower fuselage-wing halves. The exposed engine tail feathers composed of six parts per side are added next along with the twin rudders.
Should you build your Felon with the gear down, you'll find the landing gear parts nicely molded with sufficient detail although some will see an opportunity for additional detailing. The twin nose and main wheels/tires are composed of halves requiring extra work to deal with the ensuing seams.
If you opt for an open weapons bay, the doors are nicely molded with individual hinges and actuators that should look very convincing when assembled.
External underwing stores include twin drop tanks with separate pylons (one per side) and two different missiles with pylons ( up to two per side). A load-out diagram for the underwing stores is provided.
The the canopy parts are nicely molded and crystal clear with scale appropriate framing.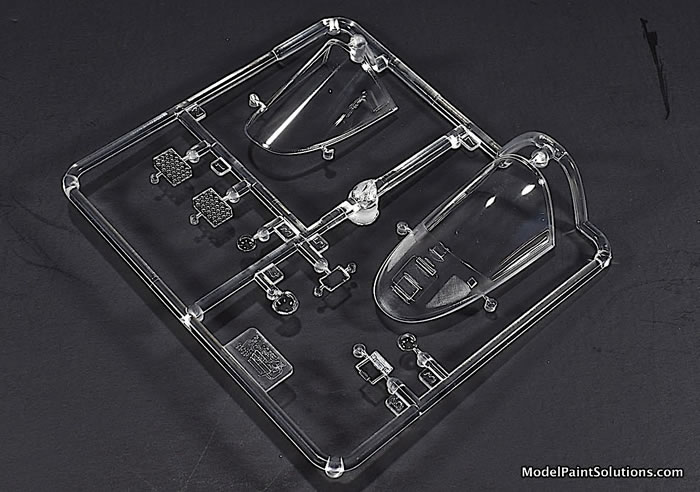 The canopy can be posed open or closed.
---
Markings:
The two sheets of decals, by Zvezda, are crisply printed with good registration and color density.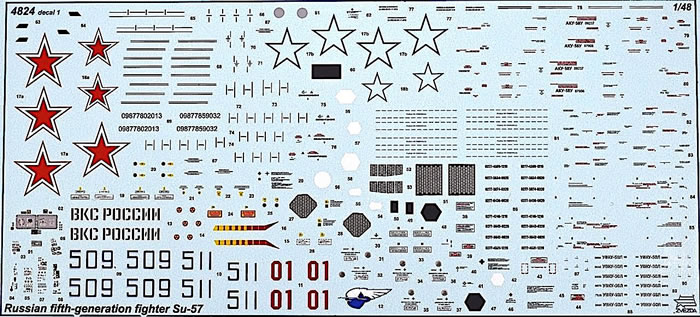 Markings for three schemes are provided as follows:
T-59-9, the eight flight prototype of the Su-57.

T-50-11, the tenth flight prototype of the Su-57.

Su-57, with future Russian Air Force Scheme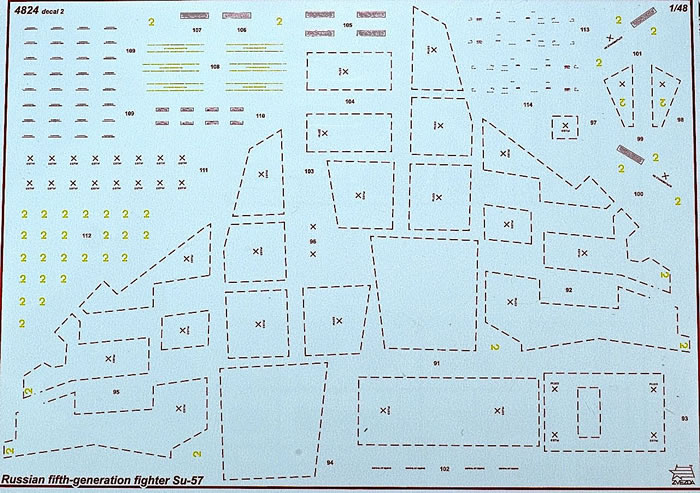 A second decal sheet supplies airframe stencils.
This is a nice kit but it is not without a few issues. First and foremost is the texture of the upper fuselage half. I suspect many will opt to refinish this area with a little sanding and buffing prior to priming and paint. In addition, some of the softer surface details could benefit from a quick refreshening with files and a scriber.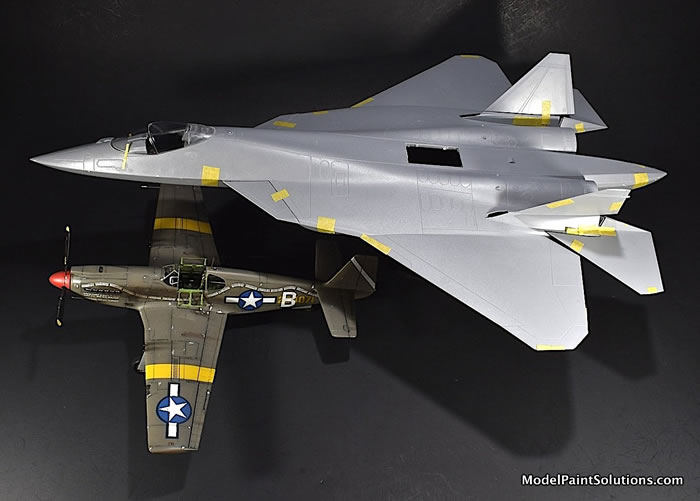 That said none of these jobs are outside the realm of any builder with a little experience and/or patience. This is going to be a large and impressive model when built.
Well done, Zvezda. Highly Recommended!
For more on this review visit Modelpaintsolutions.com

Review kit provided by my retirement fund, again.
---
Review Text and Images Copyright © 2021 by John Miller
Page Created 19 February, 2021
Last updated 19 February, 2021
Back to HyperScale Main Page
Back to Reviews Page