Zoukei-Mura's 1/48 scale
F-4EJ Kai Phantom II
by Steve Pritchard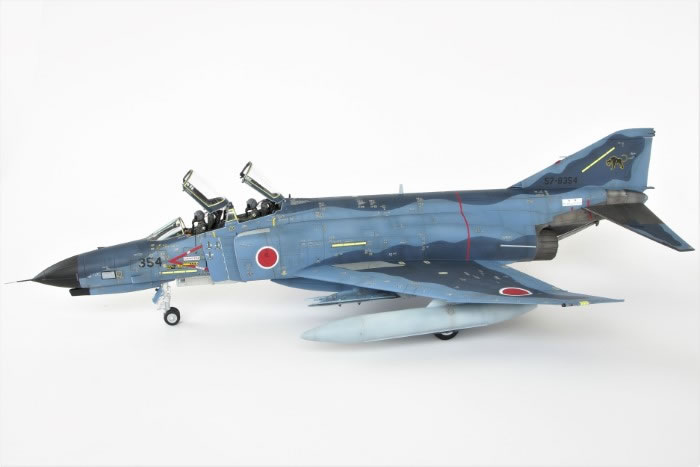 F-4EJ Kai Phantom II

Kit:
Zoukei-Mura 1/48 F-4EJ Kai Phantom II (Super Wing Series No.11) in the markings of J.A.S.D.F 8 Squadron, in 2006
Aftermarket Accessories:
DXM F-4EJ Kai Super Phantom Decals 81-4134
Paints Used:
Mr. Color 374 Shallow Ocean Blue and 375 Deep Ocean Blue for the two-tone blue camouflage. Various Alclad shades, steel, jet exhaust, exhaust manifold for the aft fuselage metallic areas. Mr. Color 317 for the cockpit grey.
I had previously completed the Zoukei-Mura F-4S and was anticipating similar issues in construction again – nothing major, just slight fit problems where the intakes join the fuselage side and gaps around the spine panel. However, I would say both areas are improved this time around – the spine panel fitted well, but because it is quite a deep sided piece a little Mr. Surfacer 500 run into the joins was all that was needed to eliminate the gap.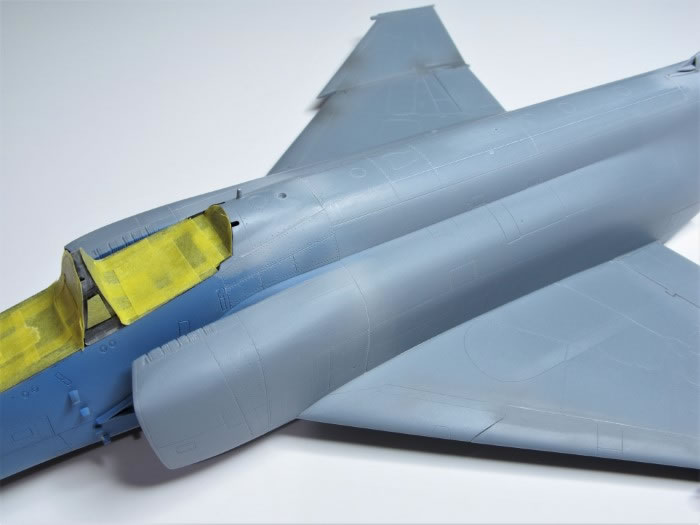 The intakes seemed to click into place with no filler required.
Otherwise, construction was straightforward - as long as care is used with alignment of the interior parts, closing up the fuselage and wings shouldn't be a problem.
I wanted to model a machine that looked like it had had a bit of use in service. To this end I started with some gentle pre-shading with a dark grey shade, followed by some random splodges and mottling using a brown shade mixed from Tamiya Acrylics, well thinned with Mr. Color Levelling Thinner. Then the top coats were applied in thin layers, allowing the earlier work to show through to varying degrees. Final effects were a little post shading, again with the brown mix, and a panel line wash with Winsor and Newton oils, Burnt Sienna and Raw Umber. I gloss coated with Mr. Color GX100 Clear before decaling, and the finish coat was Mr. Color GX114 Flat. I have since discovered that the large centreline fuel tank was usually a dark grey shade, rather than the blue as I have it.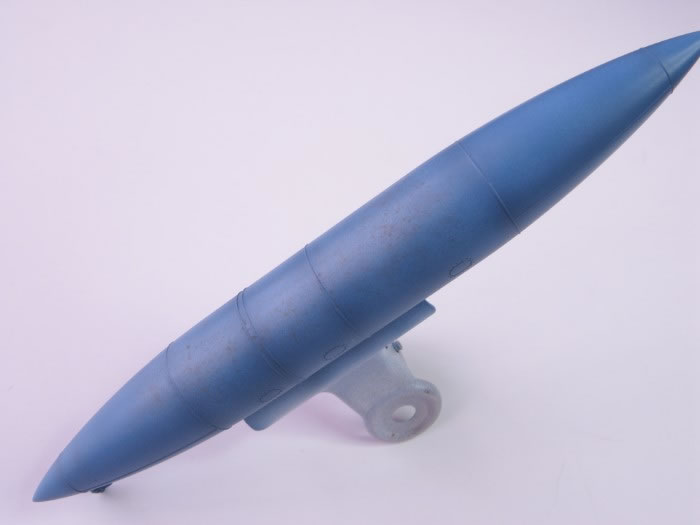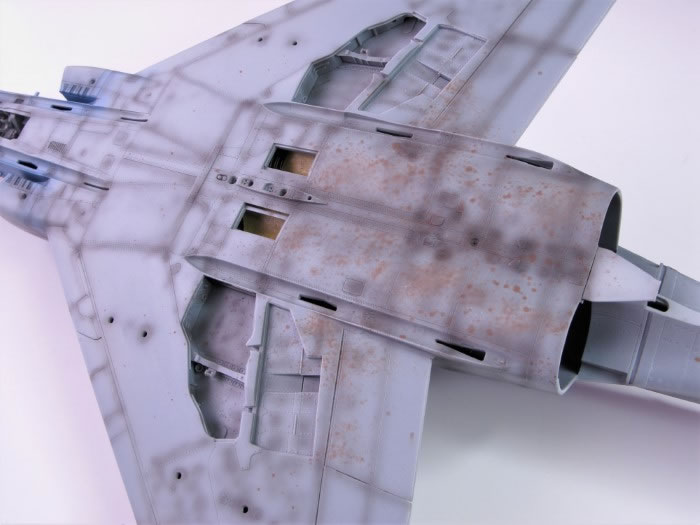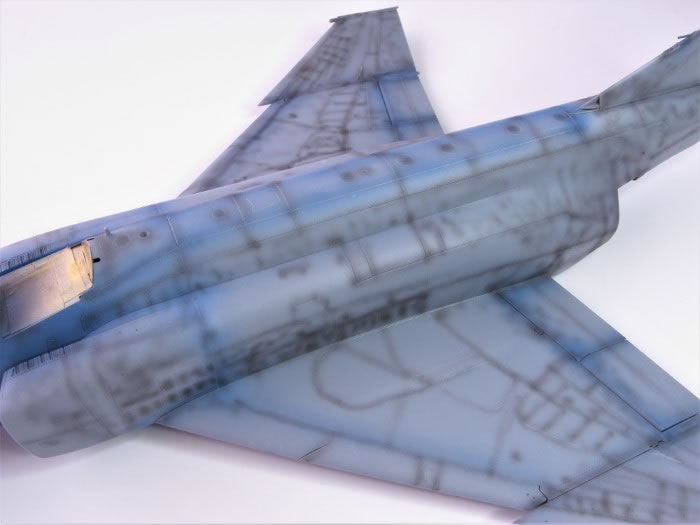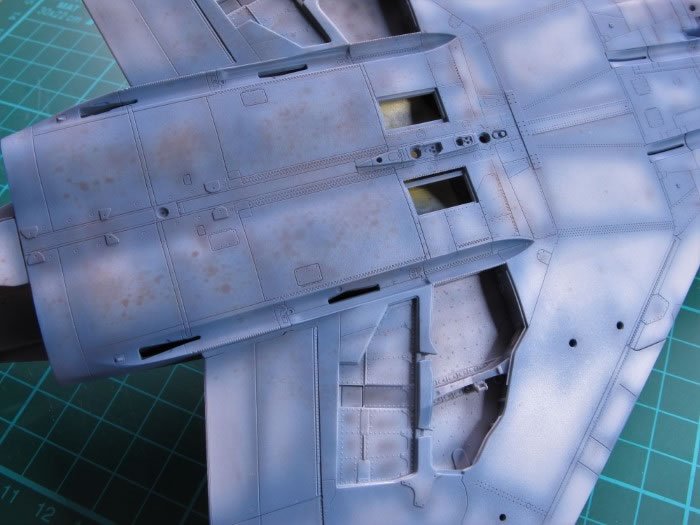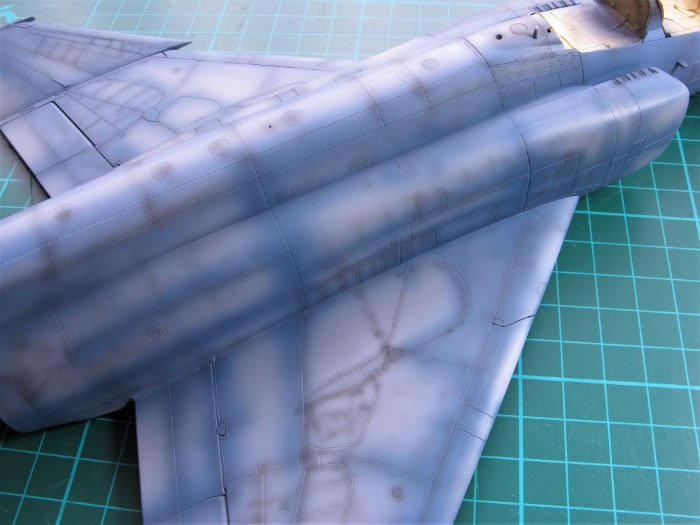 While the decals included in the kit are spectacular, I really wanted to model a more representative in-service scheme. I had tried the DXM Decals brand on my previous build, a JASDF F-15DJ, and was very impressed. It was a bit daunting with over 230 separately numbered decals (plus multiples of many examples) to apply, but I found tackling a section at a time worked best.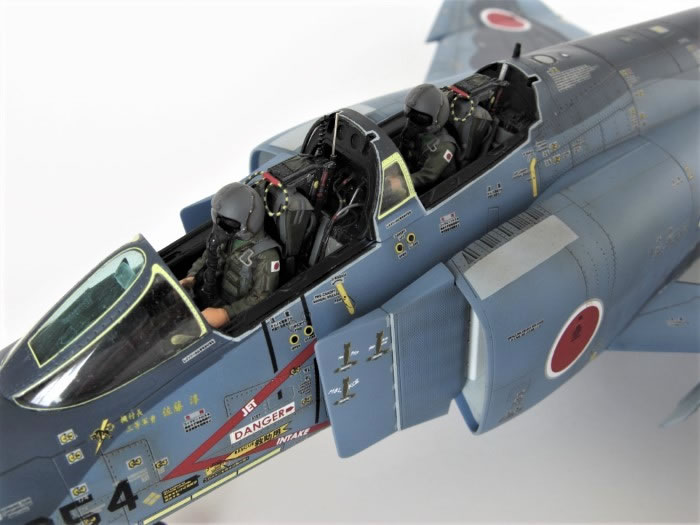 The only issues with the decals are that they are tightly packed on the sheet and some care is needed in cutting each one out, plus the numbering is a bit randomly arranged, making locating the one required a bit more difficult.
Overall, I was pleased with the final result. I am a fan of the I-300 channel on YouTube and many of their videos have featured the F-4EJ, in various colour schemes – I just had to have one in sea camouflage in my collection and was very happy when Zoukei-Mura released this kit. It is a terrific model, well thought out, highly detailed, reasonably simple to put together and I may have to build more!
Steve Pritchard
Christchurch
New Zealand
---
Model, Images and Text Copyright © 2023 by Steve Pritchard
Page Created 20 March, 2023
Last Updated 20 March, 2023
Back to HyperScale Main Page