Roden's 1/144 scale
B-36D Peacemaker
by Marcello Rosa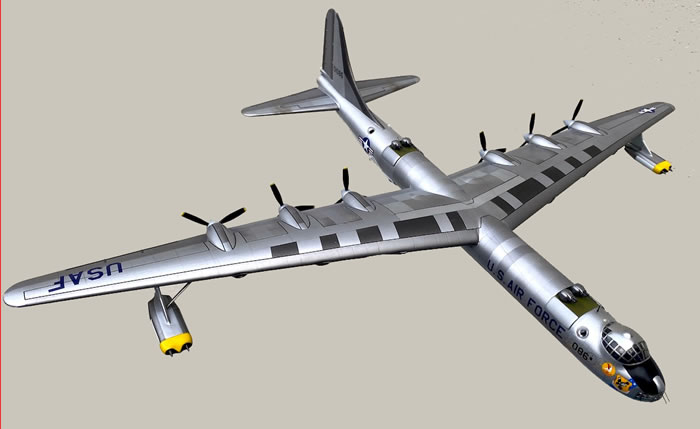 B-36D Peacemker
Here are some photos of my recently completed B-36, representing a plane (01086, "Miss Featherweight") based at Carswell during the early 1950's.
This model was built using the Roden 1/144 kit, with a few scratch built details. I used an aftermarket decal set from Caracal, given that the decals provided in the kit were too blurry to my liking. A wide-base display stand from Academy was used to represent the plane in flight. My additions were the gun barrels (segments of tungsten rod, in place of the kit plastic), rigging (using UNI-Caenis thread) and a very basic set of crew figures, created from Milliput. The kit comes with no interior, but I felt that crew figures were needed because it would look silly to have the plane in flight with no one inside. The kit also makes no provision for representing the plane with the undercarriage retracted, so some of the wheel bay doors had to be created with Evergreen sheet.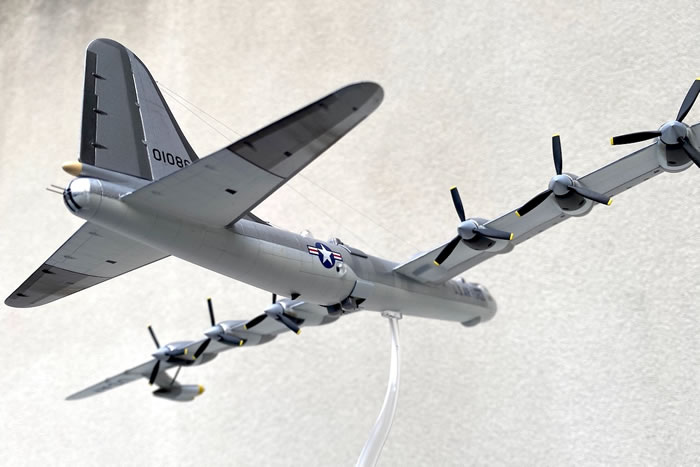 This was not an easy build. Cutting a very long story short, basically every single step was accompanied by a lot of filling and sanding to avoid unnatural-looking seam lines and mould sinks. My kit also had a strangely malformed engine nacelle in one of the wings, which I did my best to correct but still looks imperfect. I think I was just unlucky, because I have not found the same problem in another B-36 kit I had the chance to examine. This was also my first experience with attempting a natural metal finish. It was a steep learning curve, not helped by the fact that I chose a complicated scheme that combined the metallic with anti-flash white (the latter, in some parts of the bottom surfaces). This meant a lot of masking (at least one full roll of Tamiya tape was spent). Keep in mind that even at 1/144 this B-36 model still manages to be longer, and to have a wider wingspan than my 1/72 Privateer (Itself an elongated version of the B-24 Liberator). Just shows how insanely large the B-36 was, for its time.
The anti-flash white bottom surfaces were painted with SMS white followed by a bit of insignia white (trying not to be too precise, to create variation). Panel lines were suggested by running a fine pacer along them, before the last coat of white paint was applied.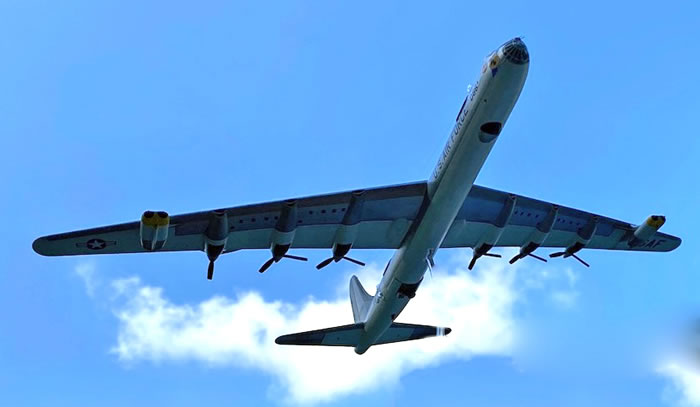 Pictures of the B-36 suggest two main characteristics of the metallic finish. 1) The crew compartments (aluminium, front and back) look more reflective than the middle parts (magnesium), and 2) there is some variation in shade and reflectiveness between panels. I tried to evoke similar impressions by using different Alclad paints, and by using different final coats after the decals (Vallejo semi-gloss for most of the wing and fuselage, very glossy floor polish for the front and back crew compartments).?
I really wanted a B-36 in my collection, and the Roden kit did provide the materials to build a correctly shaped one - albeit almost driving me crazy, in the process. Unless you have the real estate required to accommodate one of the increasingly rare 1/72 Monogram kits (I don't), and the willingness to splash money in litres of metallic paint (also not me), this is the best option available. Just don't think it will be a quick and relaxing build.
For more photos, and details of the build, please visit https://www.marcellorosa.com/1-144-b-36d-peacemaker, or send me an email
---
Model and Text Copyright © 2023 by Marcello Rosa
Page Created 5 July 2023
Last Updated 5 July, 2023
Back to HyperScale Main Page