Piper PA-48 Enforcer Conversion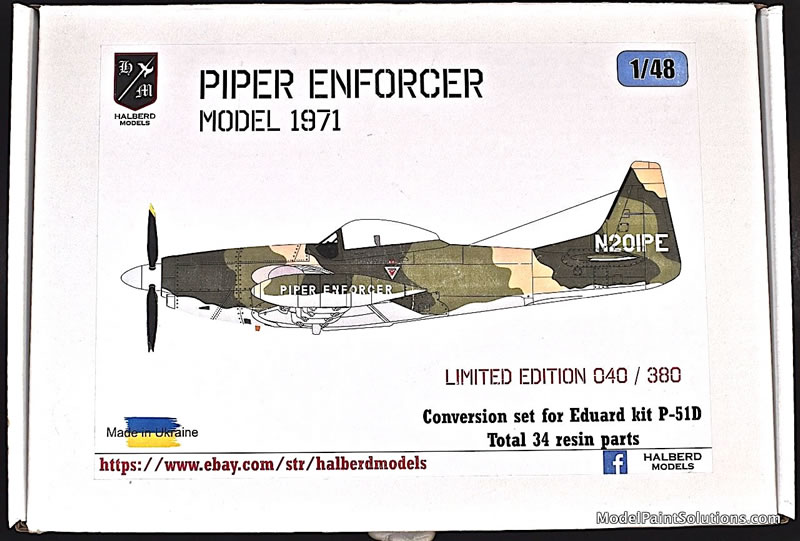 Halberd Models, 1/48 scale
S u m m a r y :

Description and Item No.:

Halberd Models Piper PA-48 Enforcer Model 1971 Conversion (Kit No. not quoted)

Contents and Media:

34 parts in green resin, two clear parts, one part in clear-orange, decals for one airframe.

Price:

Scale:

1/48

Review Type:

First Look

Advantages:

All of the parts required to convert Eduard's P-51D into a PA-48 Enforcer are provided. The resin replacement fuselage features beautiful surface details (comparable to Eduard).

Disadvantages:

This conversion will require a fair amount of work and some previous experience working with resin parts and performing conversions would be helpful. Or, you could be careful and go real slow.

Recommendation:

Highly Recommended.
Reviewed by John Miller

The Piper PA-48 Enforcer is an American turboprop-powered light close air support aircraft built by Piper in the 1970s. It is a development of the WWII-era North American P-51 Mustang fighter. The Enforcer concept was originally created and flown as the Cavalier Mustang by David Lindsay, owner of Cavalier Aircraft, in response to the United States Air Force PAVE COIN program. But, Cavalier did not have the manufacturing abilities to mass-produce the Enforcer, so the program was sold to Piper by Lindsay in 1970.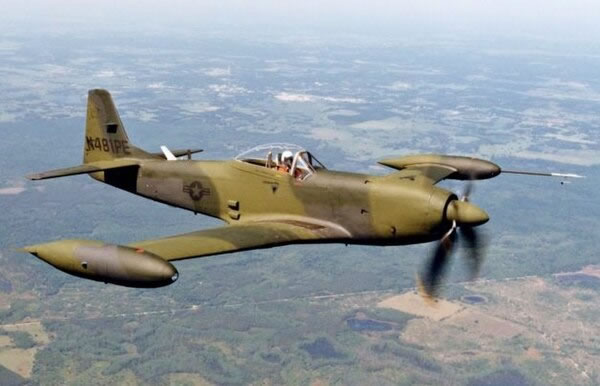 In 1971, Piper built two Enforcers by heavily modifying two existing Mustang airframes. The modifications included fitting them with Lycoming YT55-L-9A turboprop engines. One airframe was a single seat, PE-1 (FAA registered as N201PE). The other was a dual-control aircraft, PE-2 (FAA registered N202PE). Prior to the Pave COIN evaluation, N202PE was lost in a crash off the Florida coast on 12 July 1971 due to flutter caused by a Piper-modified elevator trim tab. Although the Enforcer performed well in the 1971-1972 PAVE COIN test flown by USAF pilots, Piper failed to secure a USAF contract. In 1984, with a $12 million appropriation from Congress, Piper built two new Enforcers, giving the new prototypes the designation PA-48. These aircraft were evaluated by the USAF, but flown only by Piper test pilots.
---
Surviving Aircraft
Of the four prototype aircraft produced, two still exist. In 2014, PA-48 N482PE completed restoration and is on display at the Air Force Flight Test Museum at Edwards Air Force Base.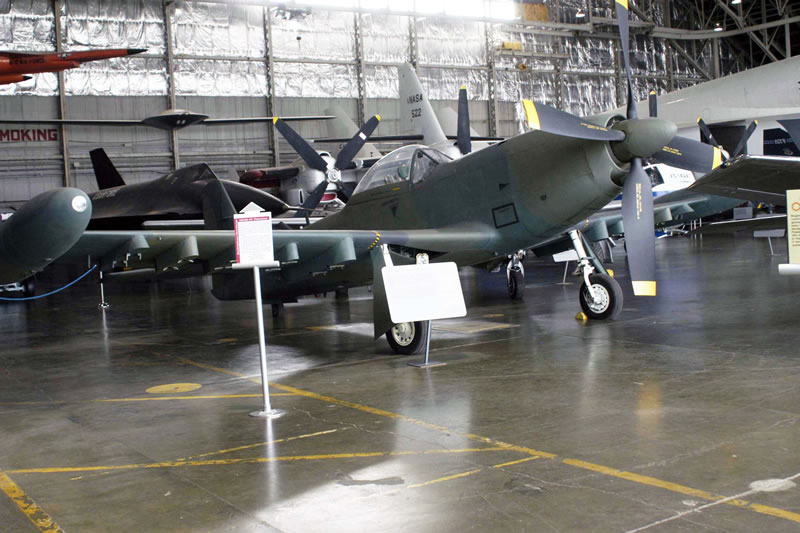 N481PE has been fully restored and is currently at the Pima Air and Space Museum, Tucson Arizona after being displayed at the National Museum of the United States Air Force, Wright-Patterson Air Force Base, Dayton, Ohio.
---
Background
I lived in Tampa, Florida for most of my junior- and high-school years but spent many awesome summers snorkeling and scuba diving off the coast of Bradenton where my father had a home just a short walk from the beach. I still love waking up to the smell of the ocean and the sound of Gulls. Yes, deep down I'm a Florida Man. And so it was on a Saturday morning, circa 1971-72, my father and I drove by what was then known as the Bradenton-Sarasota Airport and there, on the ramp, clearly visible from the road, sat a Piper PA-48 Enforcer. Now, we didn't know that at the time but being certified wing-nuts, we were transfixed. After pulling onto the side of the road, as close to the ramp as possible, we got out of the car and pondered this weird bird. It was parked with its port side to us providing a good view of the prominant exhaust. Clearly this hummer was the result of a P-51 Mustang airframe that had been mated to a turboprop engine. Coooooool!!!! It was a day I'd never forgotten.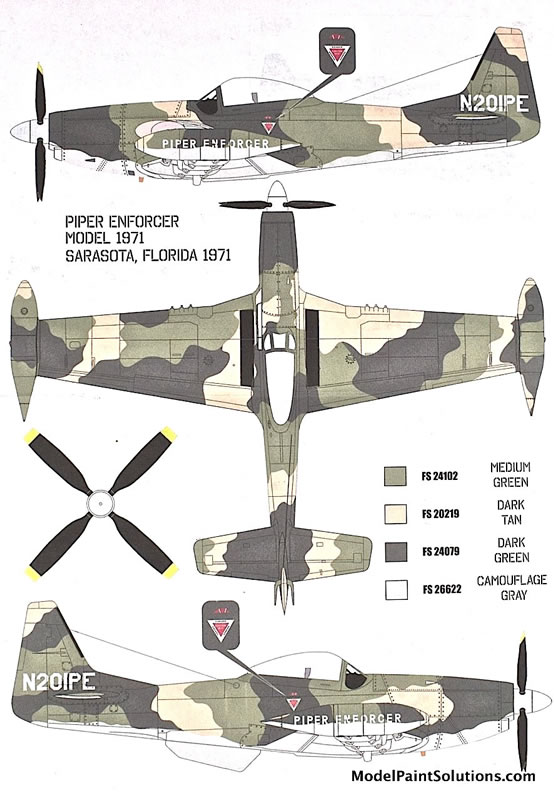 Now, as most of you folks know, there was no Google-machine in 1971-72 so an answer as to who/what the airplane was would take many years and come in form of an article on the Cavalier Mustang/Piper PA-48 I happened upon in some aviation magazine of the early 1980's (now long ago forgotten). With that as a history, I jumped at getting one these conversion kits with a knee-jerk response as soon as I saw it. I'm not let down. This conversion requires an Eduard P-51D donor kit and will involve some work but all the required parts are provided and the level of surface detail is simply beautiful. The folks at Halberd Models, a Ukrainian company, deserve a round of brews for taking this subject on and doing such a stellar job on the components.
Excellent work Halberd!
keep 'em coming!!

This conversion kit comes in a white, sturdy, cardboard box with bubble wrap protecting the larger parts. The resin fuselage features beautifully rendered surface details comparable to Eduard. This is a good thing as the cockpit, horizontal stabilizers, landing gear/doors, and cockpit (minus the seat) from the Eduard P-51D kit are used with this conversion. A quick test fit of the fuselage halves revealed no apparent issues. In fact, after just a little clean up with files and sand paper, the halves popped together; nice.
The four propellor blades are well-molded with trailing edges that are thin and scale-appropriate. The prominent exhaust is also appropriately thin and has an end piece that caps the open end of exhaust providing accurate detail should someone decide to peak inside.
The Enforcer had 10 hard points. Two are sourced from the Eduard kit and Halberd provide 8 more with very nice details although sway-braces will have to be scratched.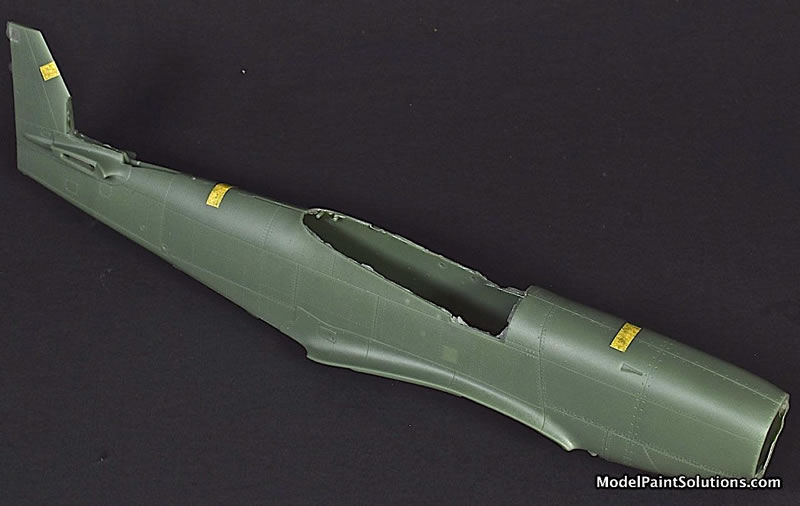 As with all the resin parts in the kit, the ventral strake and blade antennas are crisply molded and appropriately thin.
The wing tip tanks are nicely detailed and clear lenses for the landing lights in the front of each tank are provided. In addition, a clear-orange, rotating beacon that was located on the belly just aft of the ventral cowl is also included.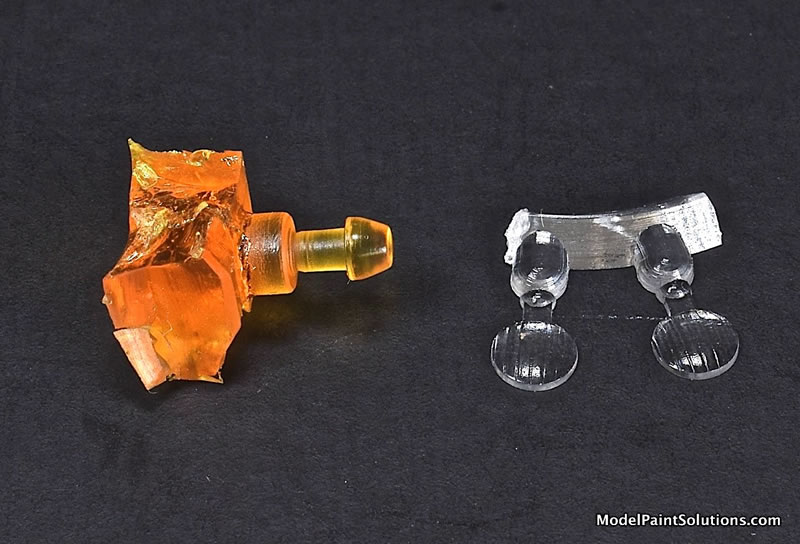 The bulk of the cockpit parts come from the Eduard P-51D but a nicely molded seat, particular to the Enforcer, is provided.
---
Color and Markings
Three sheets of color instructions are provided that highlight the major alterations required to use this conversion with the Eduard P-51D. For minor details, the builder is instructed to refer to the Eduard P-51D instructions.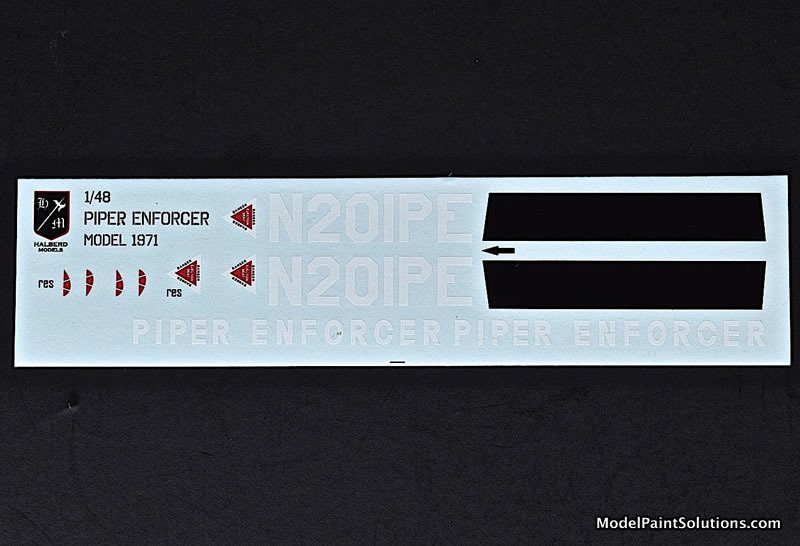 The decals, printed by Halberd, are crisply printed with good register and color density. Markings are provided for one PA-48 Enforcer airframe, N20IPE.
Hot-damn! All of the parts required to convert the Eduard P-51D into a PA-48 Enforcer are provided in this conversion kit. The surface details on the replacement fuselage are beautifully rendered and will blend perfectly with the Eduard wing and horizontal stabilizers. This conversion kit looks like a blast to use and the result will be a head-turning model when completed
Highly recommended
For more on this review and pics of the Enforcer visit Modelpaintsolutions.com.
https://modelpaintsol.com/reviews/halberd-models-piper-pa-48-enforcer-conversion-kit
Conversion kit eagerly purchased from Halberd Models here:
https://www.halberdmodel.co/products/piper-enforcer-model-1971-conversion-set-for-eduard-kit-p-51d-1-48-scale
---
Review Text and Images Copyright © 2023 by John Miller / Model Paint Solutions
Page Created 11 August, 2023
Last updated 11 August, 2023
Back to HyperScale Main Page
Back to Reviews Page