Colors & Markings of the
A-6 Intruder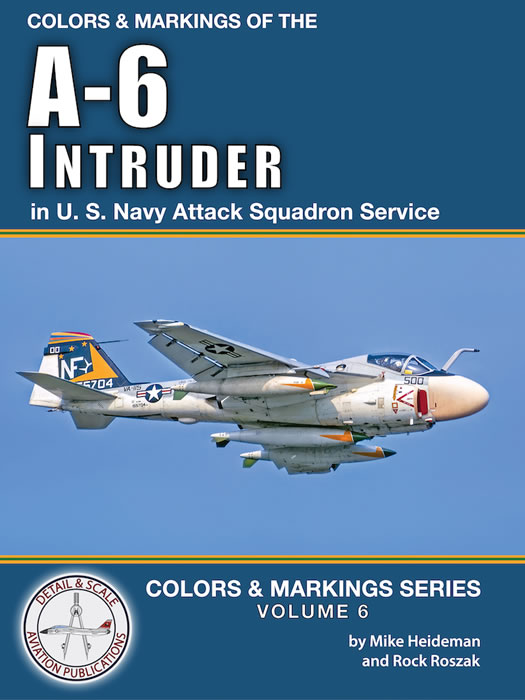 Printed and Digital Books
S u m m a r y :

Title and ISBN:

Colors & Markings of the A-6 Intruder

by Mike Heideman & Rock Roszak

Soft Bound, 127 pages

Printed Book ISBN - 978-1-7366778-9-6

E-Book - 979-8-3530396-7-9

Contents & Media:

Available in print and digital formats

Price:

Print Edition $25.99 plus shipping

Review Type:

First Read.

Advantages:

Well written and detailed; photos are first rate; profile artwork is the usual standard that you expect from Detail and Scale.

Disadvantages:

Conclusion:

This is another great book from Detail and Scale.
Reviewed by Floyd S. Werner Jr.
The A-6 Intruder is a unique looking airplane, that was built for the US Navy during the Vietnam War. It was, to me anyway, a strange looking airplane that was built for a specific mission and it did that mission exceptionally well.
As part of the Colors & Markings series of books, this book is oriented in the paint schemes worn by the Navy, in particular, in Attack Squadron Service. This softbound book features 127 pages of full color, with 309 color photos and seven color profiles beautifully rendered by Rock Roszak. The scope of these books is not the detail orientation of the Detail & Scale books, but concentrates on the paint schemes used by various squadrons.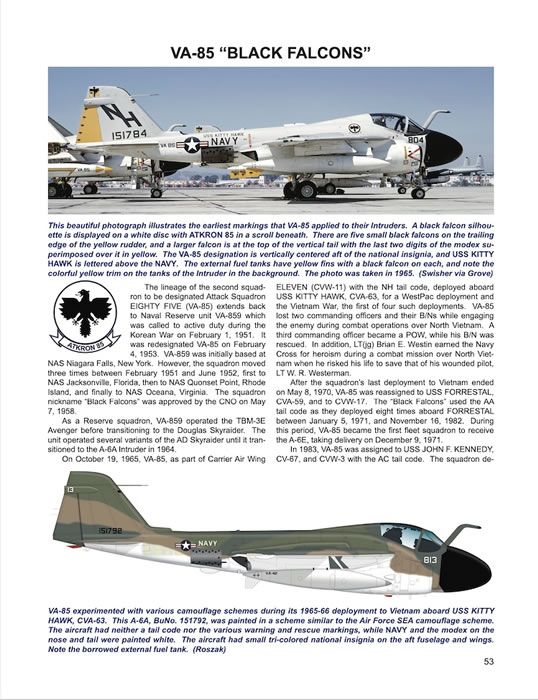 To start off the book, overall paint schemes are discussed. The A-6 has been around since the 1960s so it has gone through a variety of paint schemes from the high vis markings of Vietnam to the overall grey of its later years. Each type of paint scheme is shown for the modeler to use on his/her model.
Then the book breaks down to the individual squadrons. What is nice is that the full color photos go through the progression of the paint schemes that were discussed in the first chapter. Also included are some unique and experimental paint schemes.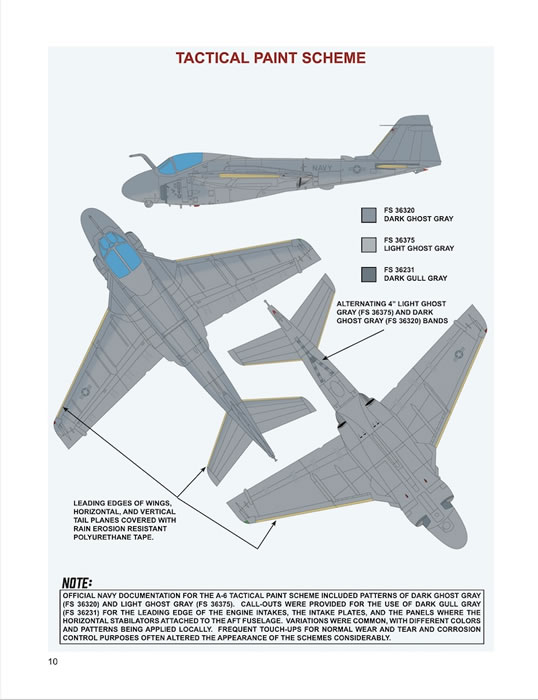 The Atlantic Squadrons are the first addressed. All ten squadrons show various markings, including full color and subdued markings. There are closeups of the squadron emblems which will be really useful to decal manufacturers and modelers.
The Pacific Squadrons are given the same treatment. There are ten squadrons here as well. The bomb mission markings on some of the Desert Storm aircraft are quite interesting, as they normally accompany a rather dirty grey aircraft.
If you are looking for inspiration to do an Intruder model, this is it. If you can't find something in here that will get you amped up to build an A-6, nothing will. This book is typical of this entire series, exceptional photos of some really unique and colorful aircraft.
The book is a great resource on a unique airplane. I don't think you will find a better reference for the colors and markings for the A-6 Intruder anywhere.
The digital copy is also available and it offers even better options, such as more pages, the ability to enlarge and zoom in on photos, and a cheaper price. Either way you can't go wrong with these books.
Highly recommended
Thanks to Detail & Scale for the review copy. You can obtain yours by going to the Detail & Scale website, https://www.detailandscale.com/detail-scale-publications. There you can find a link to the printed edition as well as the iBooks and Kindle versions of it.
Thanks to Detail & Scale or the sample.
---
Review Copyright © 2023 by Floyd S. Werner Jr.
This Page Created on 24 July, 2023
Last updated 31 July, 2023
Back to HyperScale Main Page
Back to Reviews Page