South Pacific Air War
Volume 3 - Coral Sea & Aftermath
May-June 1942
by Michael Claringbould
& Peter Ingman
Avonmore Books
S u m m a r y :

Catalogue Number, Description and ISBN:

South Pacific Air War Vol 3
Coral Sea & Aftermath May-June 1942
by Michael Claringbould & Peter Ingman
Avonmore Books

ISBN:

978-0-9945889-9-9

Contents & Media:

231 pages in a soft cover, 25cm x18cm, many historical photographs, maps, colour profiles and aircraft details.

Price:

A$44.95 normally plus shipping available online from Avonmore Books and hobby book retailers worldwide

Review Type:

First Look

Advantages:

Detailed and comprehensive look at the air war in the South Pacific from May and June 1942, with excellent informative text, historical photos and maps, as well as many aircraft profiles.

Disadvantages:

None.

Conclusion:

A great, should have, reference for modellers of all scales interested in the Pacific theatre in early stages of WWII.
Reviewed by David Couche

Avonmore Books has continued to produce their series on the South Pacific theatre of WWII, specialising in military and aviation history.
This third volume, "South Pacific Air War Volume 3, Coral Sea & Aftermath May-June 1942", chronicles aerial warfare in the South Pacific during the critical months of May and June 1942. It can be read alone or as part of a trilogy (Vols 1 &2 previously reviewed here), that spans the first six months of the Pacific War and culminates in the Battle of the Coral Sea.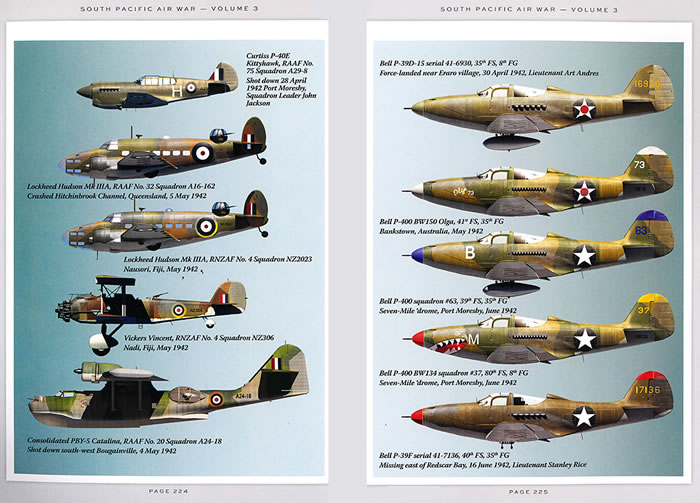 In early May 1942 the Japanese launched Operation MO, a complex plan that involved the seizure of Tulagi and Port Moresby. Within the context of an ongoing regional war waged by land-based air forces, opposing fleet carriers were drawn into conflict for the first time in history. The result was the Battle of the Coral Sea, resulting in the loss of the USS Lexington and the withdrawal of the remaining American carrier.
The orthodox view of Coral Sea is of an Allied victory whereby the Japanese were forced to abandon their plan to capture Port Moresby. However, the authors make a compelling argument that the Japanese capacity to mount the invasion was largely intact and it was a serious error by their rigid and hierarchical command structure to postpone the invasion at this critical time.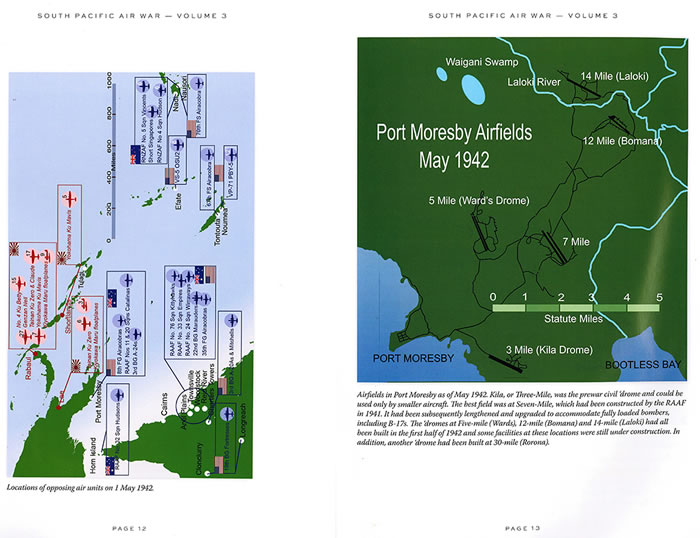 Following the Coral Sea battle, the bloody aerial campaign continued in earnest between the land-based air forces. This resembled something of a slugfest between the opposing bases of Lae and Port Moresby - just one hour's flying time apart.
The Allied offence was waged by American B-17 Flying Fortress, B-25 Mitchell and B-26 Marauder bombers shuttling up from Australia. Protecting their critical base at Port Moresby were a few hard-battling P-39 Airacobra squadrons, which suffered an astounding loss rate during this period.
On the Japanese side, their formations of Betty and Nell bombers regularly pounded Moresby, and by June had begun targeting its vulnerable harbour. These were protected by the wide-ranging Zero fighters of the famed Tainan Kokutai, whose fighter pilots were amongst the best and most experienced to be found on any front during the Second World War.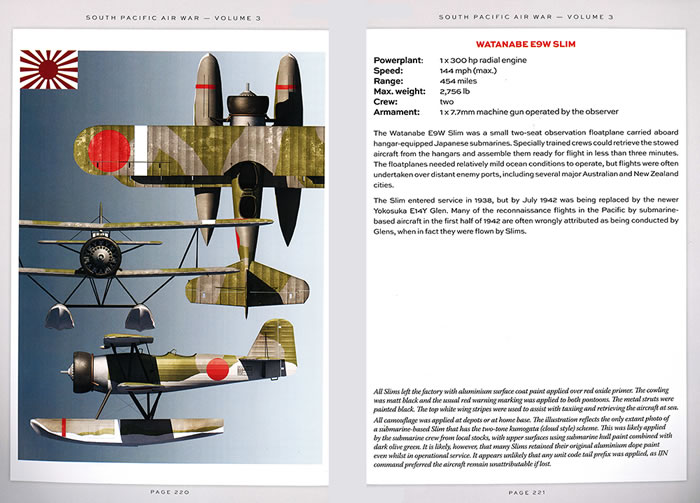 Never before has this campaign been chronicled in such detail, with Allied accounts matched against Japanese records and supported by the most accurate artwork ever produced of this era. Both authors are uniquely qualified to tell this story. Raised in Port Moresby, Michael Claringbould is a globally acknowledged expert on the New Guinea conflict and both Japanese and USAAF aviation of this period. Peter Ingman is an acclaimed military history author specialising in the early part of the Pacific War.
The book consists of 17 chapters that opens with the arrival of the Airacobra squadrons in May, 1942. The text has been written in an informative manner that is extremely easy to read and actually weaves a good story within it. These chapters follow the development of the aerial tactics from both the Japanese and the Allied forces. These were based around the opposing major bases with the Japanese at Lae, and the Allies at Port Moresby. Changes to tactics such as high level bombing by the Japanese which was not overly successful due to smaller weight bombs, the effective use of low level Zero strafing attacks against Seven Mile airfield at Port Moresby. Allied tactics became more directed with low level strafing and bombing by P-40's, B-25's and B-26.s which proved very successful against Japanese shipping. To support the text, are numerous maps and diagrams, explaining visually what was occurring as well as quite a number of historical photographs of both sides through this period at these airfields and of various naval forces.
There are several appendices at the end of the book with lists of "Aircraft Losses & Fatalities" for both the Allies and the Japanese. Following on are 10, 3-way colour profiles of aircraft types that took part in that theatre as well as the technical and historical information for specific aircraft. The third section there are 12 pages of side colour profiles of Japanese aircraft from different units and times across that period. These last 2 sections will be extremely useful to modellers with an interest in the period and theatre.
This book has been produced for the aviation enthusiast/history buffs, on the South Pacific theatre of operations involving the Japanese and Allied air units on and around Papua New Guinea.
For the modeller there is plenty of colour reference material in profiles etc supplied as well as some good period photographs of aircraft.
All in all, this book is a good read and useful for the modeller.
Well recommended.
Many thanks to Avonmore Books for the review sample.
---
Review Copyright © 2023 by David Couche
This Page Created on 2 August, 2023
Last updated 2 August, 2023
Back to HyperScale Main Page
Back to Reviews Page