North American Mustang Mk.I
Limited Edition Full Kit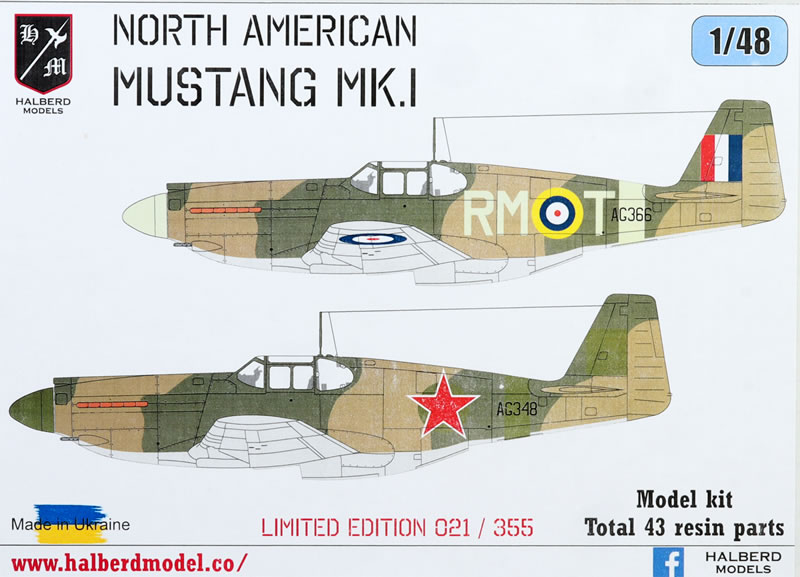 Halberd Models, 1/48 scale
S u m m a r y :

Description and Item No.:

Halberd Models - North American Mustang Mk.I (no kit number quoted)

Contents and Media:

40 parts in green coloured resin; five parts in clear resin; one small clear acetate sheet; instructions; decals for two options (RAF and VVS).

Price:

USD$85.00 plus shipping available online from Halberd Models' eBay store

Scale:

1/48

Review Type:

First Look

Advantages:

Beautifully detailed resin parts; crisply recessed panel lines and rows of rivets; thoughtful design including one-piece full-length wing, locating holes and pins; simple preparation of the resin parts; minimal cleanup; detail instructions included.

Disadvantages:

No open canopy option; red in decals is a bit bright; no harness supplied.

Recommendation:

This is a comprehensive and really well executed full kit for this first operational Mustang.

I am very impressed with the quality of the surface textures and casting. Its thoughtful design also means that only a moderate amount of modelling experience will be required to tackle the project.

The very nice Accurate Miniatures long-run 1/48 scale Allison Mustang kits were originally released in 1994 and I believe they never offiered a Mustang Mk.I, so Halberd's modern-day and exquisitely textured update is very welcome.

This is a genuine limited edition though, so grab one while you can.

It is also worth mentioning that this Ukrainian company continues to manufacture and distribute their models in the middle of a war. Buying this kit is one small way to support our Ukranian friends
Reviewed by Brett Green

The Mustang was initially developed for the RAF, which was its first user. As the first Mustangs were built to British requirements, these aircraft used factory numbers and were not P-51s; the order comprised 320 NA-73s, followed by 300 NA-83s, all of which were designated North American Mustang Mark I by the RAF. The first RAF Mustangs supplied under Lend-Lease were 93 P-51s, designated Mk Ia, followed by 50 P-51As used as Mustang Mk IIs. Aircraft supplied to Britain under Lend-Lease were required for accounting purposes to be on the USAAC's books before they could be supplied to Britain, but the British Aircraft Purchasing Commission signed its first contract for the North American NA-73 on 24 April 1940, before Lend-Lease was in effect. Thus, the initial order for the P-51 Mustang (as it was later known) was placed by the British under the "Cash and Carry" program, as required by the US Neutrality Acts of the 1930s.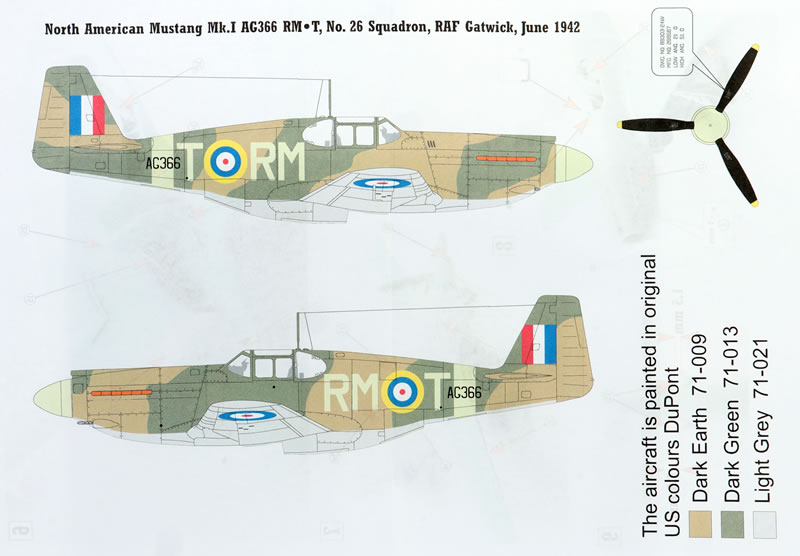 After the arrival of the initial aircraft in the UK in October 1941, the first squadron of Mustang Mk Is entered service in January 1942, the first being No. 26 Squadron RAF. Due to poor high-altitude performance, the Mustangs were used by Army Co-operation Command, rather than Fighter Command, and were used for tactical reconnaissance and ground-attack duties. On 10 May 1942, Mustangs first flew over France, near Berck-sur-Mer. On 27 July 1942, 16 RAF Mustangs undertook their first long-range reconnaissance mission over Germany. During the amphibious Dieppe Raid on the French coast (19 August 1942), four British and Canadian Mustang squadrons, including 26 Squadron, saw action covering the assault on the ground. By 1943–1944, British Mustangs were used extensively to seek out V-1 flying bomb sites. The last RAF Mustang Mk I and Mustang Mk II aircraft were struck off charge in 1945.
Army Co-operation Command used the Mustang's superior speed and long range to conduct low-altitude "Rhubarb" raids over continental Europe, sometimes penetrating German airspace. The V-1710 engine ran smoothly at 1,100 rpm, versus 1,600 for the Merlin, enabling long flights over water at 50 ft (15 m) altitude before approaching the enemy coastline. Over land, these flights followed a zig-zag course, turning every six minutes to foil enemy attempts at plotting an interception.
During the first 18 months of Rhubarb raids, RAF Mustang Mk.Is and Mk.Ias destroyed or heavily damaged 200 locomotives, over 200 canal barges, and an unknown number of enemy aircraft parked on the ground, for a loss of eight Mustangs. At sea level, the Mustangs were able to outrun all enemy aircraft encountered. The RAF gained a significant performance enhancement at low altitude by removing or resetting the engine's manifold pressure regulator to allow overboosting, raising output as high as 1,780 horsepower at 70 in Hg. In December 1942, Allison approved only 1,570 horsepower at 60 in Hg manifold pressure for the V-1710-39.*
Halberd Models from Ukraine has released a full 1/48 scale resin kit of the North American Mustang Mk.I.
Accurate Miniatures launched their long-run injection moulded 1/48 scale Allison Mustang family in 1994 - nearly 30 years ago? Doesn't time fly!
They are still available today via re-boxings by Italeri and Academy. These were very nice kits but a Mustang Mk.I was never released, although Ultracast did offer a Mk.I conversion for the cannon-armed Mk.IA.
Anyway, it is nice to finally have a dedicated, state-of-the-art 1/48 scale Mustang Mk.I straight from the box.
Halberd's Mustang Mk.I comprises a surprisingly modest 40 parts in green coloured resin, five parts in clear resin, one small clear acetate sheet, detailed instructions and decals for two options (RAF and VVS).
There is no kit number quoted, but mine is the 21st kit in a limited edition of 355.
The model is packed securely inside a stout cardboard box in ziplock bags for the smaller parts and larger parts wrapped in bubblewrap. The fuselage halves are taped together to avoid warpage or damage in transit.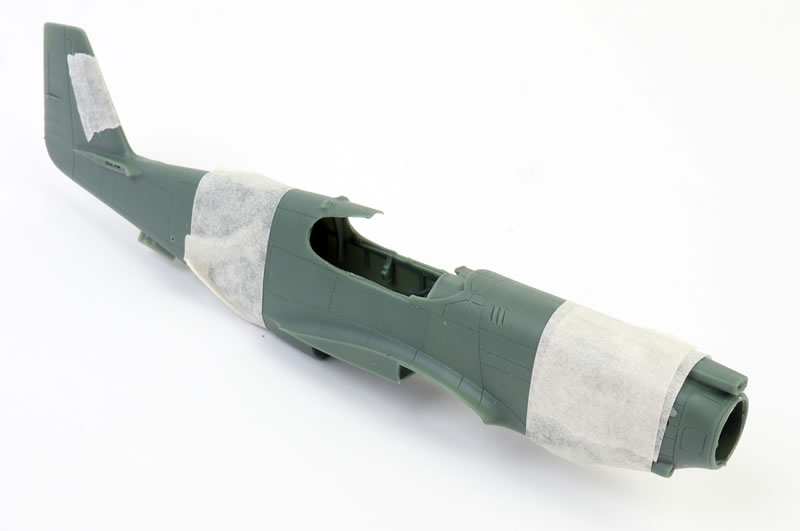 The parts are cast conventionally in green coloured resin.
The recessed panel lines, rows of rivets, vents and fabric texture are the equal of pretty much anything today - crisp, fine and consistent.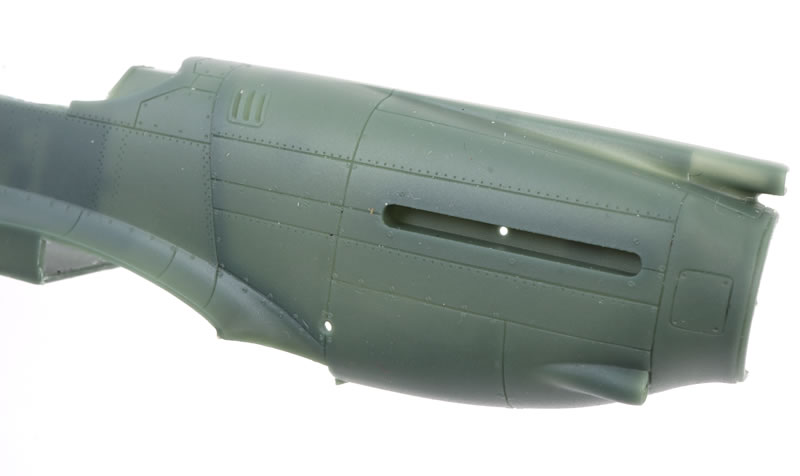 The kit appears to have been designed to be as easy as possible to assemble.
The fuselage halves are full-length - no cuts or inserts at all. Furthermore, the fuselage halves are cast with locating pins and holes on the mating surfaces.
Lots of structural features and detail parts are cast onto the fuselage sidewalls. These should look great after careful painting and weathering.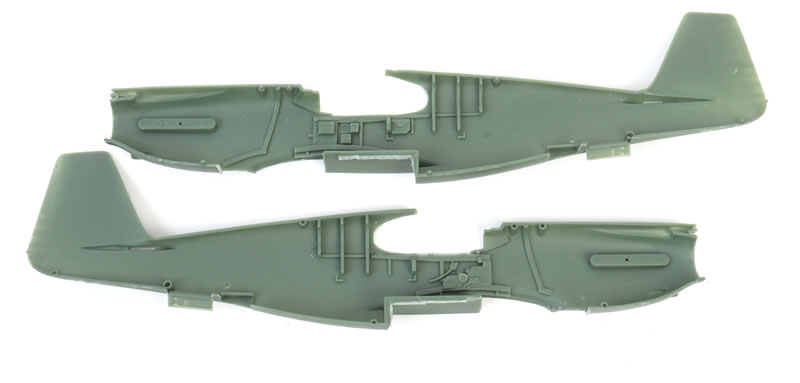 Separate parts are also supplied to detail the front office.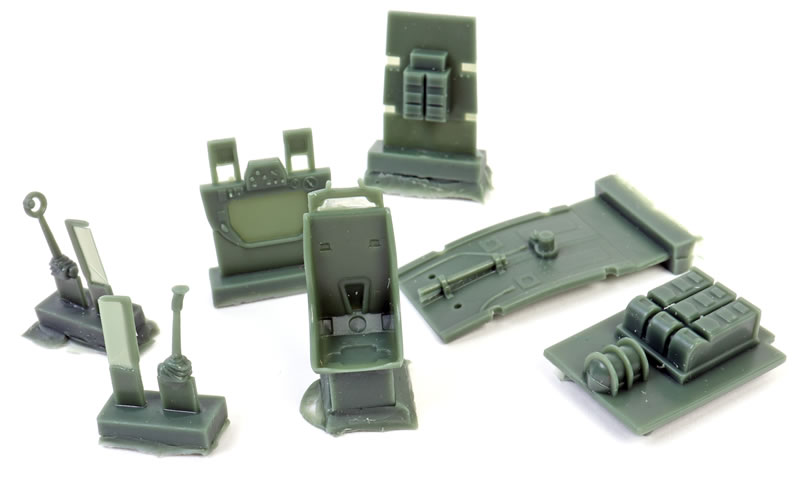 These include a correctly curved cockpit floor, seat, radios, instrument panel with integrated rudder pedals, US-style joystick and RAF spade grip. No harness is supplied though.
Also included are a separate intake, machine gun barrels, two one-piece main wheels, undercarriage doors and hollowed-out exhausts.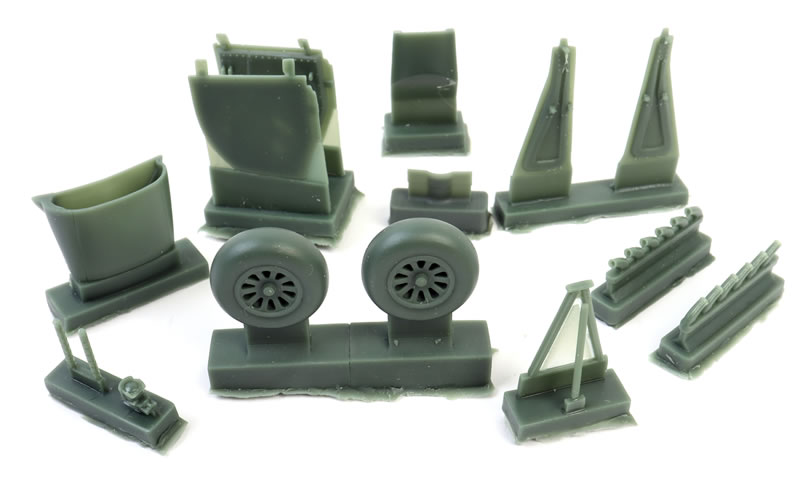 The three-bladed propeller assmbly is cast in once piece with a separate spinner cap and base.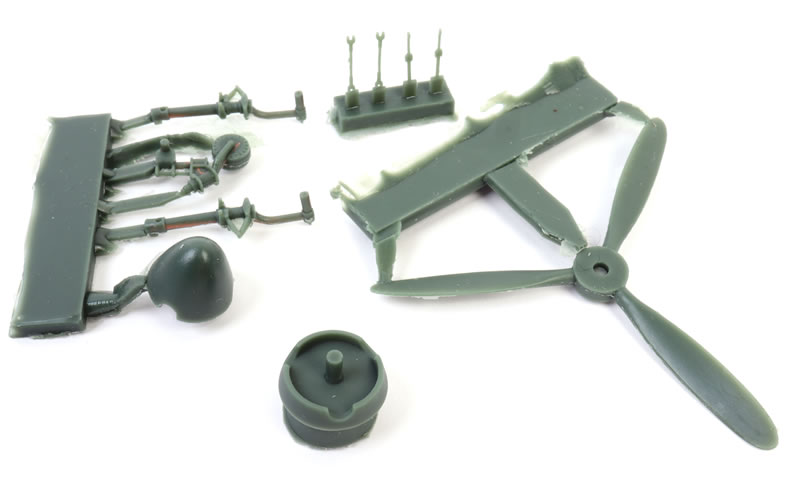 Undercarriage legs and struts are supplied as green resin parts too.
The wing is cast as a single, full span part.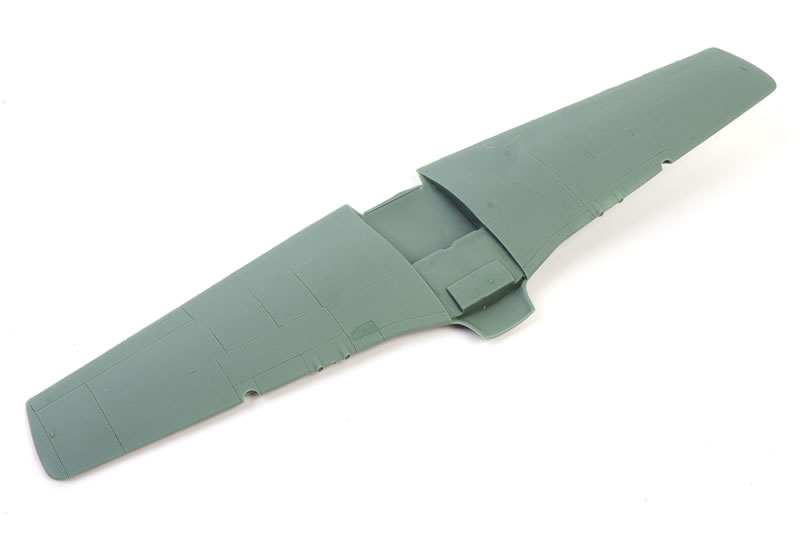 Undercarriage bay detail is cast in place and it looks great, although I think the rear main undercarriage wall should be straight (in line with the wing spar).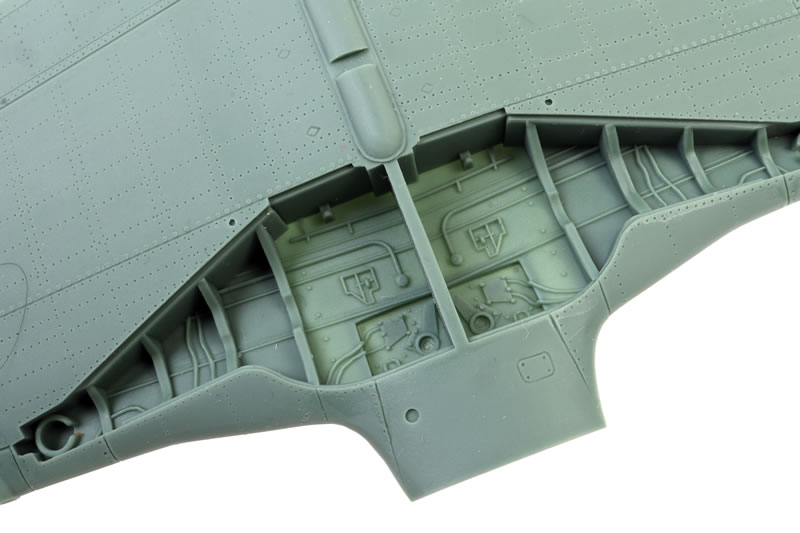 The clear resin parts are thin and shiny.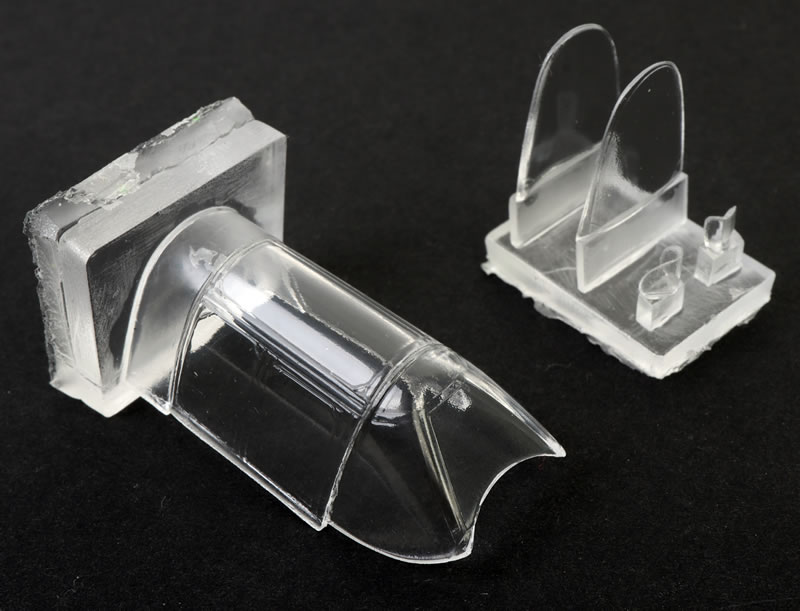 The windscreen and canopy are cast as one piece. Cutting this into three separate parts to allow the canopy to be displayed folded open will be risky, so most (including myself) will probably just leave it closed.
The rear windows and landing lights are also supplied in clear resin.
---
Markings
Markings for two aircraft - one RAF and one VVS - are offered on the decal sheet.
Printing quality looks very good.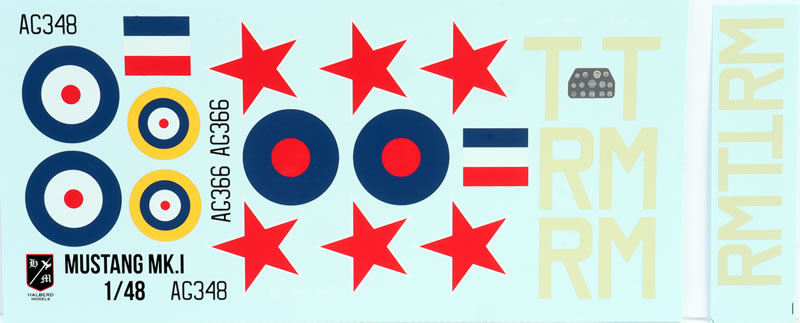 An errata decal sheet with smaller sky-coloured codes is also included.
The roundel red for the RAF option looks too bright to me.
An instrument panel decal is also on the sheet.
This is a comprehensive and really well executed full kit for this first operational Mustang.
I am very impressed with the quality of the surface textures and casting. Its thoughtful design also means that only a moderate amount of modelling experience will be required to tackle the project.
The very nice Accurate Miniatures long-run 1/48 scale Allison Mustang kits were originally released in 1994 and they never offiered a Mustang Mk.I, so Halberd's modern-day and exquisitely textured update is very welcome.
This is a genuine limited edition though, so grab one while you can.
It is also worth mentioning that this Ukrainian company continues to manufacture and distribute their models in the middle of a war. Buying this kit is one small way to support our Ukranian friends.
*Historical background courtesy of Wikipedia
Thanks to Halberd Models for the sample
---
Text and Images Copyright © 2023 by Brett Green
Page Created 23 March, 2023
Last updated 24 March, 2023
Back to HyperScale Main Page
Back to Reviews Page