Northrop CF-5D
Freedom Fighter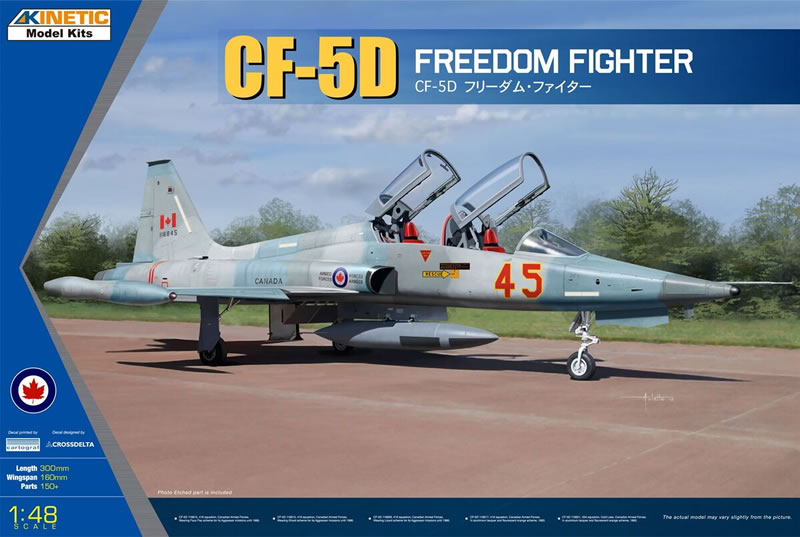 Kinetic, 1/48 scale
S u m m a r y

Item No.
Kinetic Model Kits Item No. K48123 - Northrop CF-5D Freedom Fighter
Contents and Media:
187 grey injected moulded parts, 14 clear parts, small photo-etch sheet of 11 parts, decals and instructions..
Scale
1/48
Price:

USD$29.98 plus shipping available online from Lucky Models

and hobby retailers worldwide

Review Type:
FirstLook
Advantages:
Crisp yet subtle moulding with good detail. Interesting choice of schemes.
Disadvantages:

Photocopied instructions with poor paint scheme profiles.

Recommendation:

A nice kitting of the 2 seat Canadian F-5 Freedom Fighter. Some interesting schemes aggressor schemes as well as natural metal ones included in the schemes.
Reviewed by David Couche

The Northrop F-5 is a family of supersonic light fighter aircraft initially designed as a privately funded project in the late 1950s by Northrop Corporation. There are two main models, the original F-5A and F-5B Freedom Fighter variants and the extensively updated F-5E and F-5F Tiger II variants. The design team wrapped a small, highly aerodynamic fighter around two compact and high-thrust General Electric J85 engines, focusing on performance and a low cost of maintenance. Smaller and simpler than contemporaries such as the McDonnell Douglas F-4 Phantom II, the F-5 cost less to procure and operate, making it a popular export aircraft.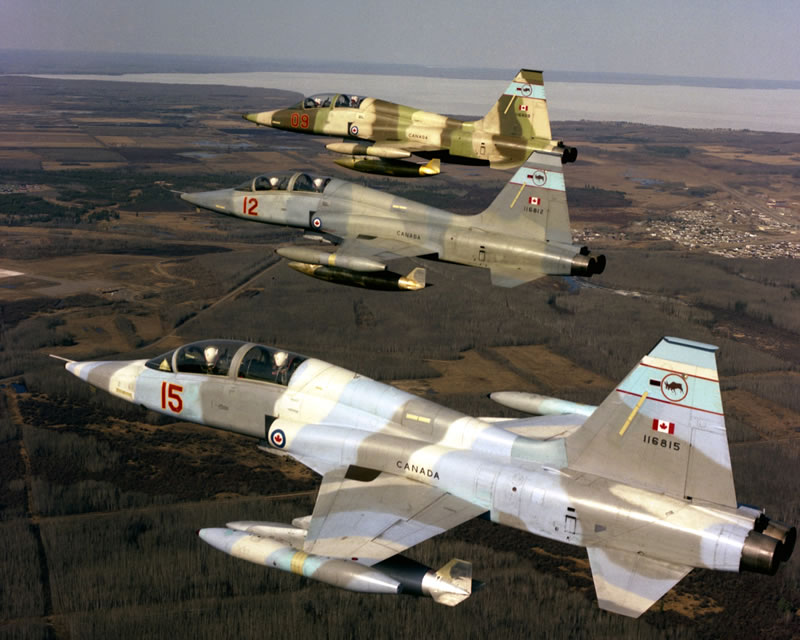 Though primarily designed for a day air superiority role, the aircraft is also a capable ground-attack platform. The F-5A entered service in the early 1960s. During the Cold War, over 800 were produced through 1972 for US allies. Though at the time the United States Air Force (USAF) did not have a need for a light fighter, it did procure approximately 1,200 Northrop T-38 Talon trainer aircraft, which was based on Northrop's N-156 fighter design.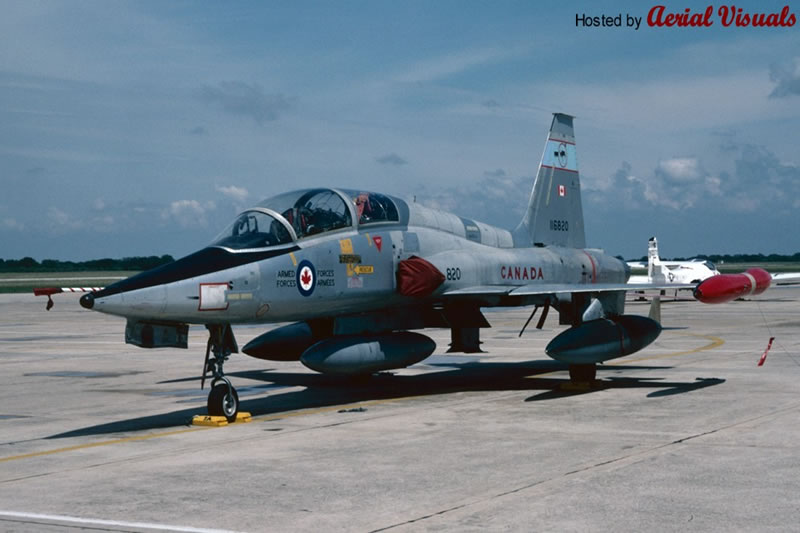 In 1962, the Kennedy Administration revived the requirement for a low-cost export fighter, selecting the N-156F as winner of the F-X competition on 23 April 1962, subsequently becoming the "F-5A", and was ordered into production in October that year. It was named under the 1962 United States Tri-Service aircraft designation system, which included a re-set of the fighter number series. Northrop manufactured a total of 624 F-5As, including three YF-5A prototypes, before production ended in 1972. A further 200 F-5B two-seat trainer aircraft, lacking nose-mounted cannons but otherwise combat-capable, and 86 RF-5A reconnaissance aircraft, fitted with four-camera noses, were also built.
In addition, Canadair built 240 first generation F-5s under license, designated CF-5AD.
*Text courtesy of Wikipedia
An end opening floppy box, which for me is the first Kinetic kit I've seen this way and my least preferred packaging, is packed full of all the goodies you will need to make a nicely detailed model of this Freedom Fighter. This moulding was originally released in 2013 but now has new schemes/decals in this version. This kit is basically identical to the previously reviewed NF-5B European version, seeing as the Canadians built and supplied these aircraft to Europe.
Contents include, 5 grey injected moulded sprues with some 119 parts on them. There is one clear sprue containing 14 very clear parts with 8, decals and the non-inspirational B&W photocopied instruction booklet. Come on Kinetic, you can produce nice and detailed kits and yet your instruction booklets, too be blunt, are very poor and modellers are crying out for you to provide us, with at least, coloured decaling profiles. Panel lines are recessed and raised detail in places required, such as the cockpit and wheel bays. All sprues are cleanly moulded with little flash evident and sprue gates to the parts appear to have been created to minimise their effect on the parts.
---
Sprue B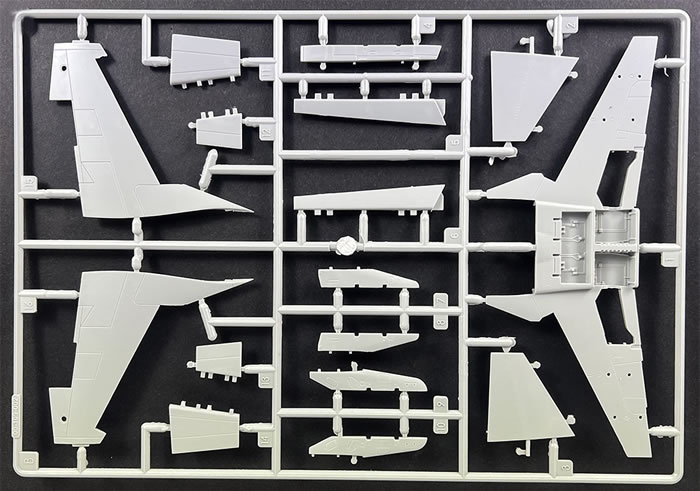 This sprue is the grey plastic sprue and has 16 parts on it. Sprue B has the upper and lower wings as well as the tailplanes and most of the pylons. Major parts have simple recessed panel lines and no rivets at all. The single piece lower wing has a nicely detailed set of wheel bays and airbrake wells.
---
Sprue C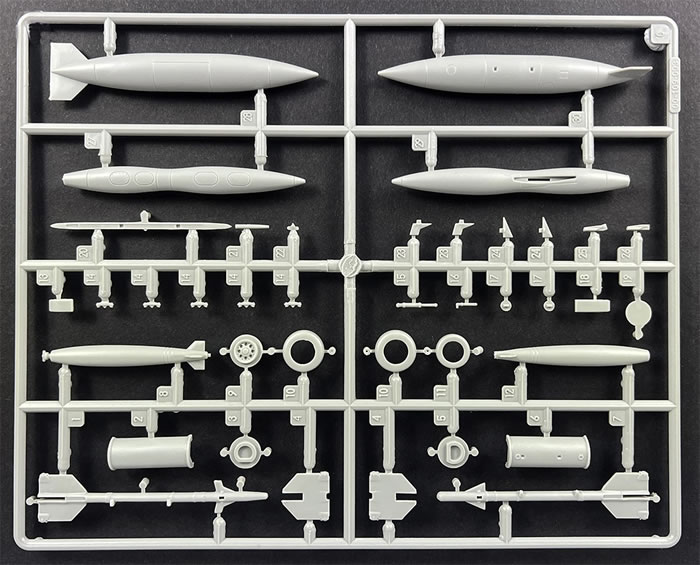 Sprue C contains 39 parts and there are 2 of them. There are 2 types of drop tanks on this sprue, the waisted or Coke bottle style wing tip tanks or the more standard under wing tanks. The remainder of the parts are parts for the weapons carried including 2 Sidewinder missile versions, the AIM-9B and AIM-9J, rocket pods and Mk 82 bombs.
---
Sprue D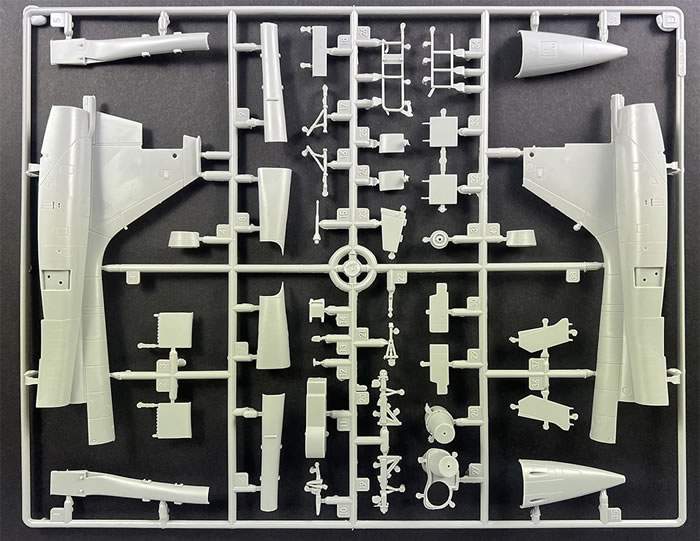 Here on Sprue D we have 41 parts, including the rear fuselage halves. Detail is excellent on all surfaces of these 2 large parts and include a certain amount of reasonably refined rivets runs which are obvious on the real aircraft. This also has the parts for the intakes, the undercarriage legs, wheel bay doors as well as parts to construct one of the pilot ladders, which are nice extras for the model. The 2 halves for the single seat versions are on this sprue with the cannon included but these are not used on this version.
---
Sprue E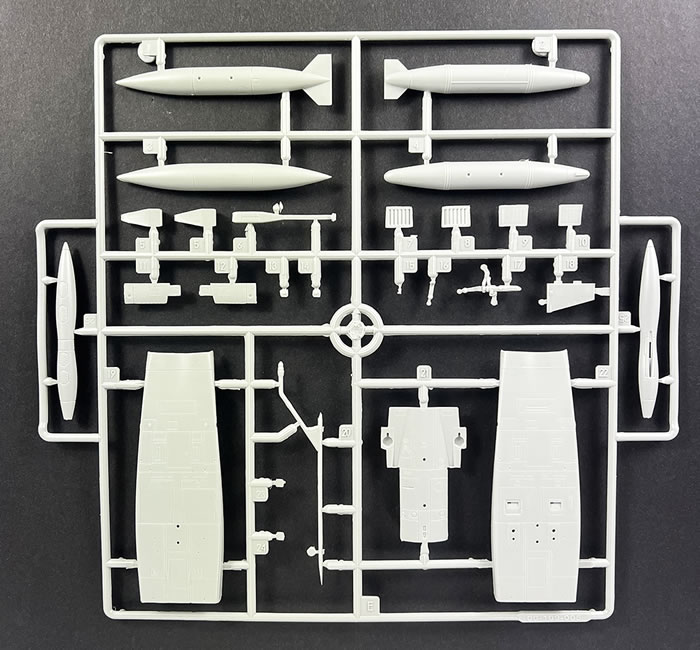 An interesting sprue with 27 parts on it. Of main interest are the major underside panels, 3 of them that create close to the underside of the fuselage. These panels have plenty of excellent crisp detail and will make a base for great finishes on your model. Strangely, there are 3 more drop tanks included, one of the wing tip type and 2 under wing, one with a pointed nose and one with a rounded nose. There are a number of minor parts on here as well including the emergency tail hook.
---
Sprue K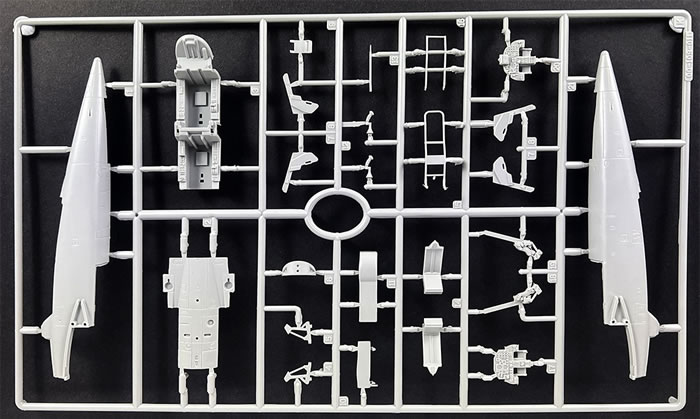 Finally we get to sprue K, having 25 parts including the forward fuselage halves for the 2 seat version, exhibiting good detail, as well as all of the parts for the cockpit. The cockpit tub and instrument panels have excellent raised detail which you will need to paint as there are no decals for them. The seats consist of 3 pieces with no seatbelts. With the quite large, fairly exposed cockpit, a set of aftermarket belts would certainly be an improvement.
---
Sprue L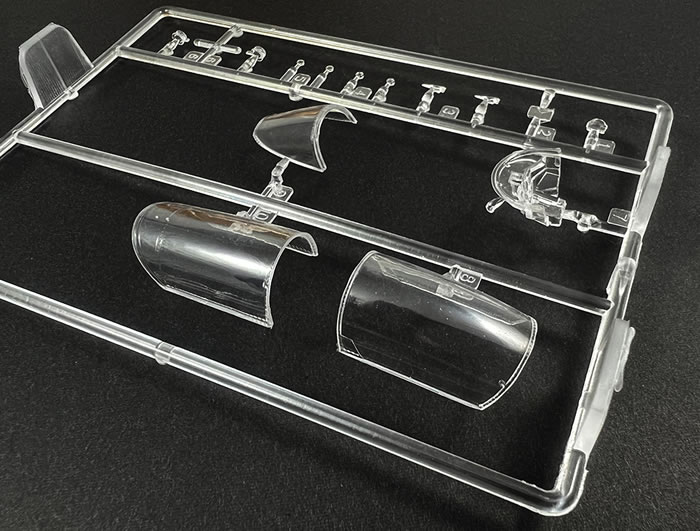 This is the clear sprue with 14 crystal clear parts. You get the 3 parts of the canopy and the interior section between the 2 crew. There are plenty of lights to give a realistic finish to your model rather than the old painted method.
---
Photo-Etch Fret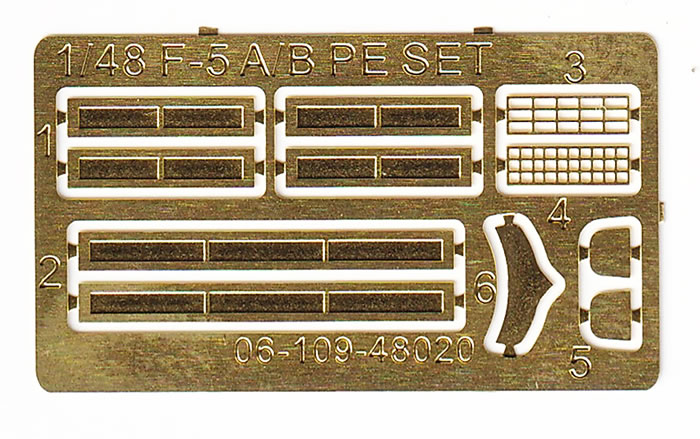 The kit contains a small brass photo-etched sheet with 11 parts on it. They are the slime lights, and some grill meshes etc. These will add some more raised detail to your fuselage and tail fin. Disappointing that Kinetic supply a photo-etch sheet but don't give you seat belts.
---
Instructions & Markings
The instructions for the kit are the usual okay construction sheets but poorly reproduced. If Kinetic can produce some very good model kits, why can't they have properly printed instructions instead of the poor example in this kit which was only faintly printed on the lower half of the page. This can be seen in the scheme and instruction examples even after I have used Photoshop to enhance the nearly missing half pages.
They do have detailed painting and decaling instructions.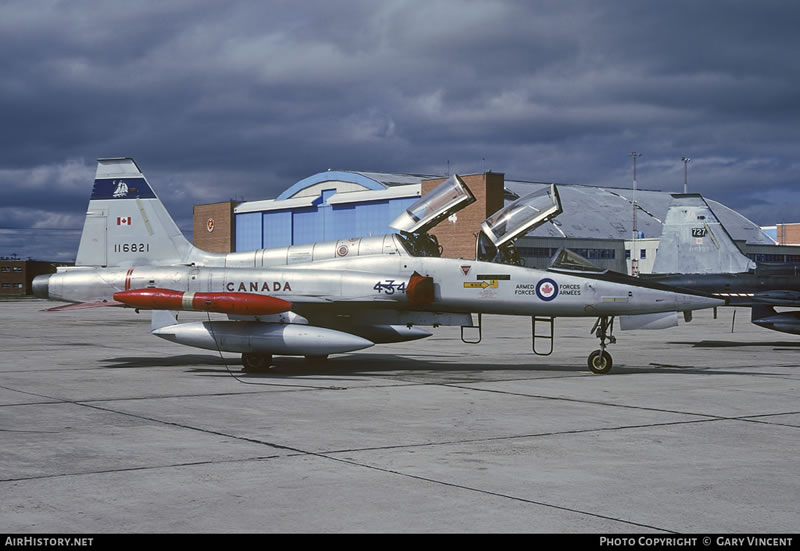 Colour call outs on the scheme profile are for Mig colours only. The early instruction pages have a paint call out chart with a number of paint brands, including Vallejo, Mr Color, Model Air, Italeri, Humbrol and Tamiya ranges. These include the major colours where available included on this list.
I do wonder to the accuracy of the information they give on the paint/decal profiles. In doing some research, if I'm correct, 419 Squadron actually flew from Cold Lake AB. Please Canadian readers, tell me if I'm wrong. This actually doesn't change any details for decals but may change your display labelling. The decals appear to be in perfect register giving the options for 5 different aircraft flown by the Canadian Air Force. Included are basic data stencils.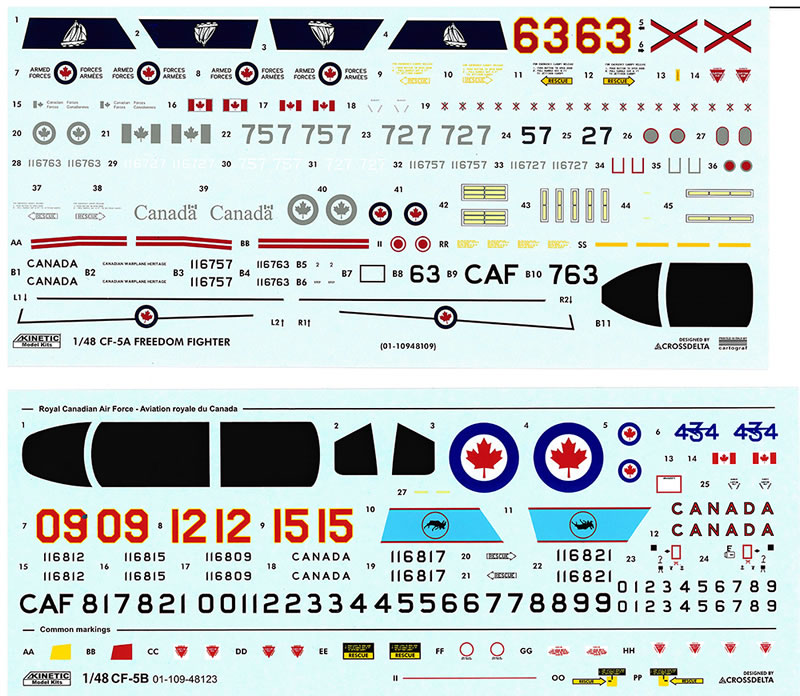 I have included a scan of the aircraft profiles and some photos of the actual aircraft, they are;
CF-5D, No. 116815, 419 Sqn. Aggressor training, Faux Pas scheme, Moose Jaw up to 1986 (although this squadron flew from Cold Lake CFB)

CF-5D, No. 116812, 419 Sqn. Aggressor training, Faux Pas scheme, Moose Jaw up to 1986

CF-5D, No. 116809,419 Sqn. Aggressor training, Lizard scheme, Moose Jaw up to 1986

CF-5D, No. 116817,419 Sqn, Aluminum lacquer flourescent orange scheme, Moose Jaw up to 1983

CF-5D, No. 116821,434 Sqn., Bluenose, Aluminum lacquer flourescent orange scheme, Cold Lake AB up to 1988
A very nice, well detailed but relatively simple kit that gives you a good range of schemes used by the Royal Canadian Air Force. It looks like it will build into a nice model at the end, but maybe it'll pay to have some photographic resources regarding colours etc.
Despite my grumping at times, this will build up into a good model and is quite cheap, so it's excellent value for the money.
I look forward to building this kit to go with my single seat versions. Recommended.
Thanks to Lucky Model for the sample
---
Review Text and Images Copyright © 2023 by David Couche
Page Created 31 May, 2023
Last updated 31 May, 2023
Back to HyperScale Main Page
Back to Reviews Page