Spitfire Mk.Ia (Mid)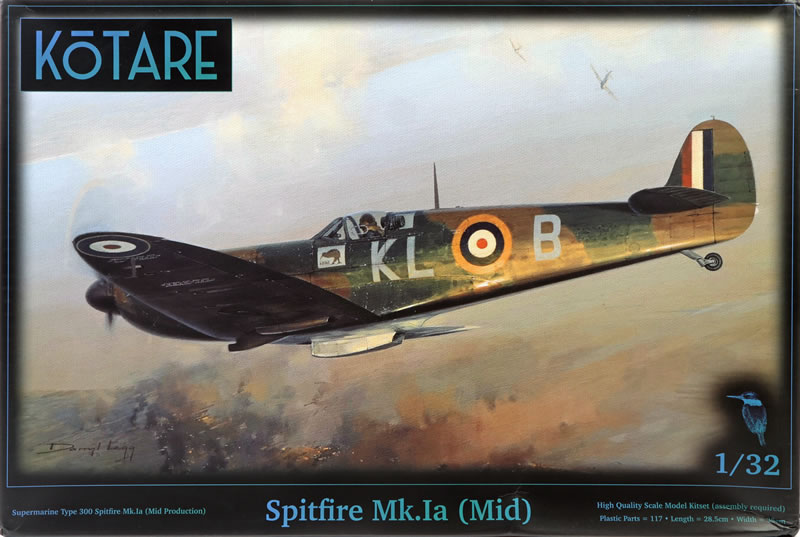 Kotare Models, 1/32 scale
S u m m a r y :

Description and Item No.:

Kotare Models Kit No. K32001 - Spitfire Mk.Ia (Mid)

Contents and Media:

101 parts in grey coloured plastic (3 parts marked not for use); nine parts in clear (2 parts marked not for use); decals with three marking options; 28 page A4-sized instruction book.

Price:

USD$109.00 plus shipping available online from Kotare Models' webstore

Scale:

1/32

Review Type:

First Look

Advantages:

Clever parts breakdown; manageable number of parts; beautifully detailed; perfectly moulded; authentic surface textures; comprehensive instructions and notes; high quality Cartograf decals.

Disadvantages:

None noted.

Recommendation:

Another Spitfire? Yes please!

Kotare Models' kit is the Goldilocks Spitfire – detail and buildability are just right. The small parts count does not compromise detail at all.

This is clearly the best 1/32 scale Spitfire Mk.I available today.

Everything you need to model a beautifully detailed Battle of Britain Spitfire mid production Mk.Ia is right here in the box.

I really like the philosophy behind Kotare Models' 1/32 scale Spitfire Mk.Ia (Mid). I can't wait to start mine!.
Reviewed by Brett Green

Another Spitfire, I hear you ask?
The Spitfire Mk.I has been relatively poorly served in 1/32 scale until now.
Revell released a 1/32 scale Spitfire Mk.I in 1967. This was a nice kit for its day with recessed panel lines, but numerous accuracy issues and gimmicks such as moveable control surfaces and a basic engine relegates it to history.
Hasegawa's 2001 effort at a Spitfire Mk.I was to combine the fuselage and other parts from its 1970s-vintage Spitfire Mk.Vb with new wings, propeller assembly, exhausts and decals. Unfortunately, the old parts featured the original raised panel lines while only the new parts had recessed surface textures. The new kit was lumbered with the basic cockpit of the original Mk.Vb too.

Fast forward to 2015, and Revell had a second all-new attempt at a 1/32 scale early Spitfire. It is a Mk.II, but it is an easy matter to backdate the kit to a Mk.I.
Detail is quite good and shapes are generally accurate, but there is a smattering of baffling errors and omissions - metal ailerons, incorrect style of oil cooler fairing, simplified radiator, heavy surface detail, missing details and poorly shaped spinner - that mean it does not live up to its potential as the large-scale budget priced early Spitfire of choice.
So here we are in 2023 with no 1/32 scale kit worthy of this famous Battle of Britain fighter.
Enter Kotare.
Kotare Models is the brainchild of modeller, veterinary specialist and owner of the fabulous Modelair hobby shop in Auckland New Zealand, Mark Robson.
Mark has put together a team with some names that will be familiar to Wingnut Wings fans including General Manager - Richard Alexander, Product Designer - Darren Mildenhall, Decal Artist - Malcolm Laird, Profile Artist – Ronny Bar and more.
The debut release for this new venture is a 1/32 scale mid-production Spitfire Mk.Ia. Kotare's definition of mid-production is in the N3XXX and P9XXX serial number range completed between September 1939 and April 1940. These could be distinguished by an improved cockpit door latch, a reflector gun sight, tapered aerial post and a voltage regulator behind the pilot's head rest. Some mid-production Spitfires were fitted with a Rotol RX5/1 propeller and spinner, and a TR.1133 VHF radio that did not require an external aerial wire.
Kotare Models' 1/32 scale Spitfire Mk.Ia (Mid) comprises 101 parts in grey coloured plastic (including 3 parts not used), nine parts in clear (2 not used), decals with three marking options and comprehensive instructions in an A4-sized 28 page book.
First, let's talk about the number of parts. In today's era of uber-kits, manufacturers seem to be in a race to the highest number of parts possible. This is especially true of military kits but we have seen the parts count of aircraft kits rising too.
Kotare is bucking this trend with a very modest 101 grey plastic parts. They have managed this feat without compromising detail. Kotare has moulded much of the detail as single parts. Looking at the port side lower cockpit sidewall for example, Kotare presents a single part with oxygen bottles, throttle quadrant, dials and boxes all moulded in place but detail does not suffer at all.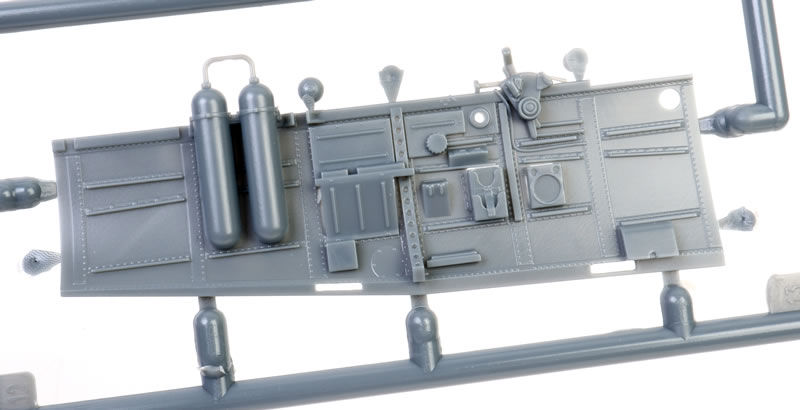 The kit is replete with similar examples – why design a seven-piece sub-assembly when you can mould it as one part? This seems to be the Kotare Spitfire's philosophy.
I think this approach will appeal to many modellers who would like to build a beautifully detailed kit but feel intimidated by the daunting parts count of many recent releases.
It also points to Kotare's Spitfire Mk.Ia as a kit to build, not to sit on the shelf.
Let's take a closer look.
Surface textures are subtle and convincing. A combination of recessed panel lines, recessed fasteners and raised rivets delivers an authentic effect overall.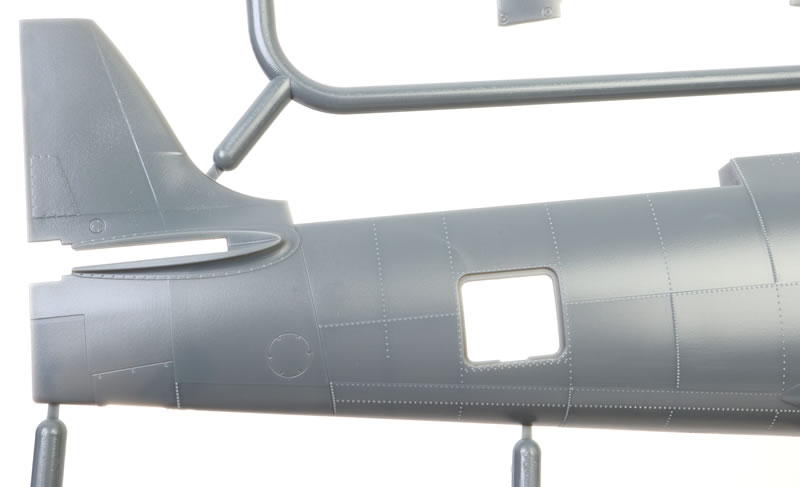 Fabric effect is limited to rows of stitching.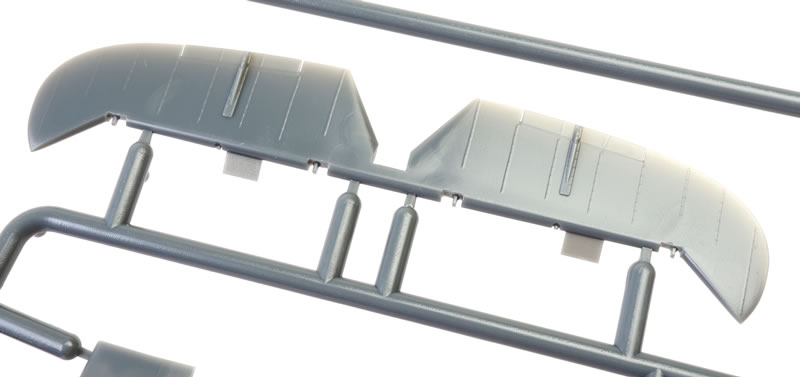 The cockpit is a work of art. I have already mentioned the sidewalls, but the seat and the instrument panel are also worthy of special notice. The instrument panel is a single solid plastic part with dial, bezel and switch detail moulded crisply in place. The compass and mount are moulded onto the bottom of the panel. Decals are supplied for the dial detail in single, pairs and trios.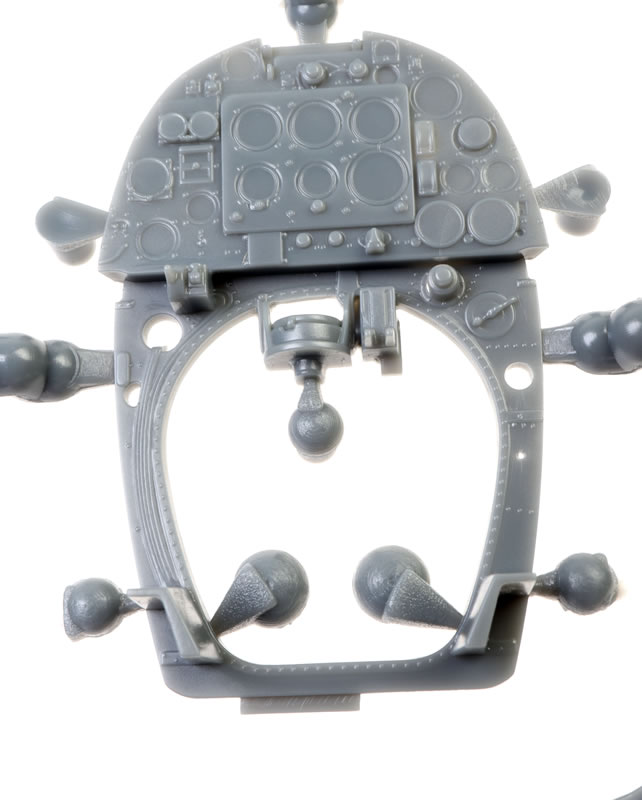 I particularly like that Kotare has provided the option of a seat with moulded-on Sutton harness.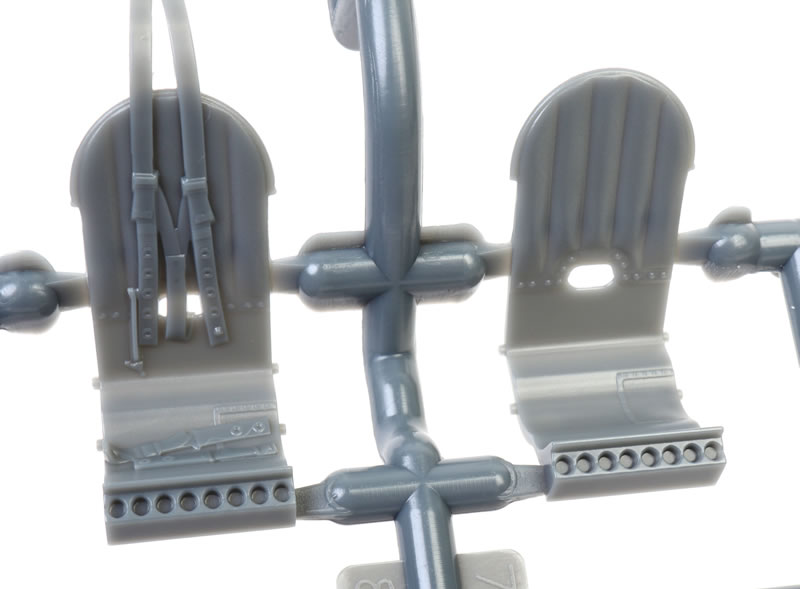 The cockpit floor accurately depicts the multi-layered bottomless effect. The control yoke is a separate part, allowing it to be posed to taste.
There is plenty of detail inside the fuselage aft of the pilot too.
Another nice touch is that Kotare provides a rigging guide for the rudder, aileron and elevator control lines, undercarriage retraction cables plus the attachment line for the shoulder harness mount.
Also interesting, Kotare calls out the main cockpit colour as Supermarine Interior Green Matt, also sometimes called Apple Green, which is a deeper and more vivid colour that the standard RAF Interior Grey Green. The recommended Tamiya mix is 2 parts XF-71 IJN Cockpit Green and 1 part X-28 Park Green. The instructions discuss the interior colours in some detail.
The long kinked undercarriage hand pump on the starboard sidewall is accurate for an early to mid-production Spitfire.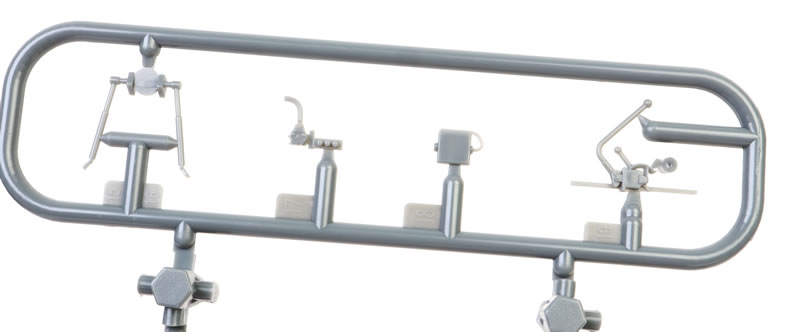 The fuselage has a number of separate inserts and hatches including the accumulator door, wireless access hatch, engine cowlings and separate spine. These will presumably permit different variants to be offered in the future. In fact, the inside of the cowling has raised lettering "Mk.I/V" – that's got to be a clue!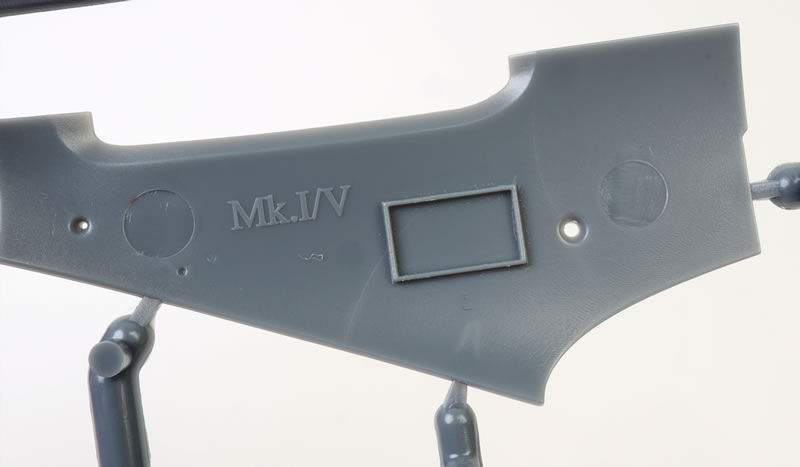 The cockpit door may be posed open or closed.
Wings are broken down conventionally with full-span lower and separate port and starboard upper wing parts. A long span wing spar is included, ensuring the correct dihedral. The eight Browning .303 machine gun barrels are located in correctly spaced and recessed in the lower wing. The instructions suggest the barrels may be drilled out for more detail.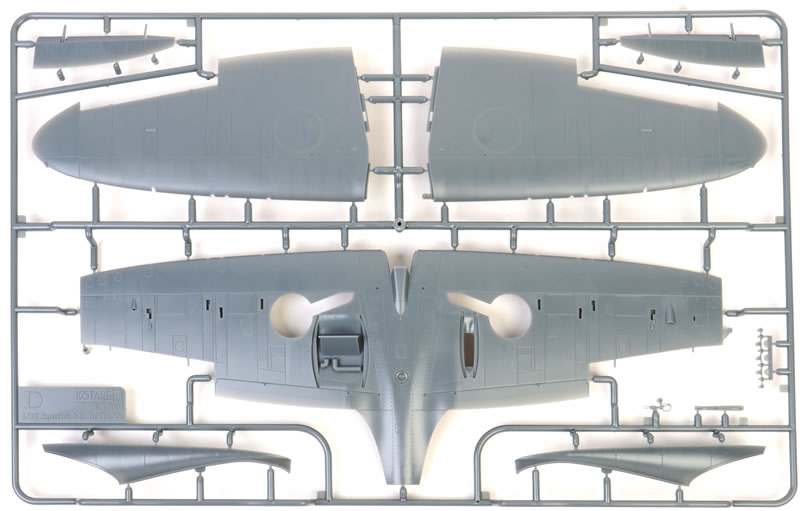 The wheel well walls are provided as a single part for each side. A really nice example of attention to detail is the jack for the early-style undercarriage part as separate parts for each landing gear well. You'll need to drill or cut out a slot in the undercarriage walls to accommodate the jacks.
The five-spoke main wheels are supplied in two parts each (no vinyl - hooray!). They are bulged and flattened and keyed to make sure the flat spot sits on the ground.
The wing fillets are separate parts, as are ailerons, elevators and rudder. The rudder and elevators are moulded with locating tabs, but you may simply cut these off if you wish to pose your rudder and elevators offset.
The kit offers the choice of de Havilland and Rotol spinner and propeller assemblies.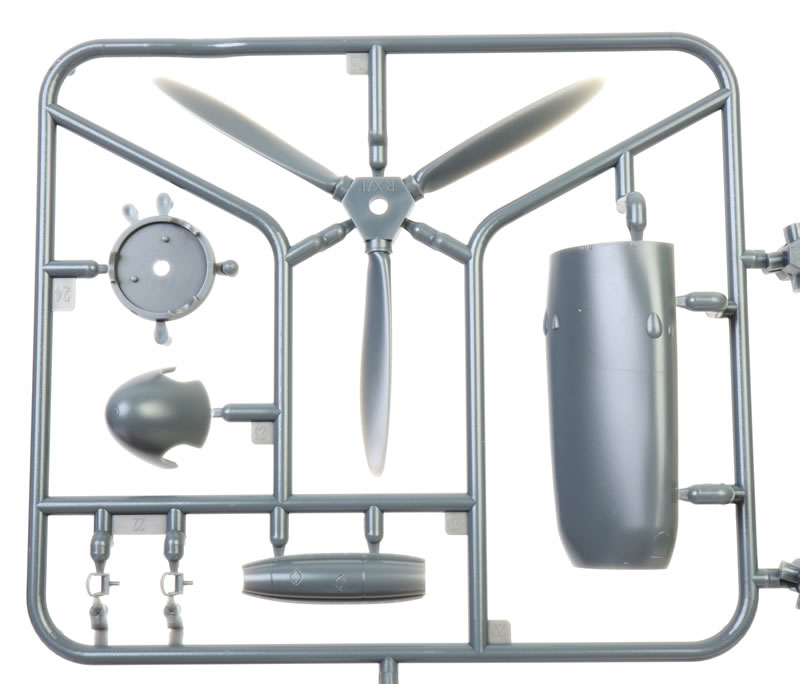 The propellers are moulded as a single part with the pitch already set.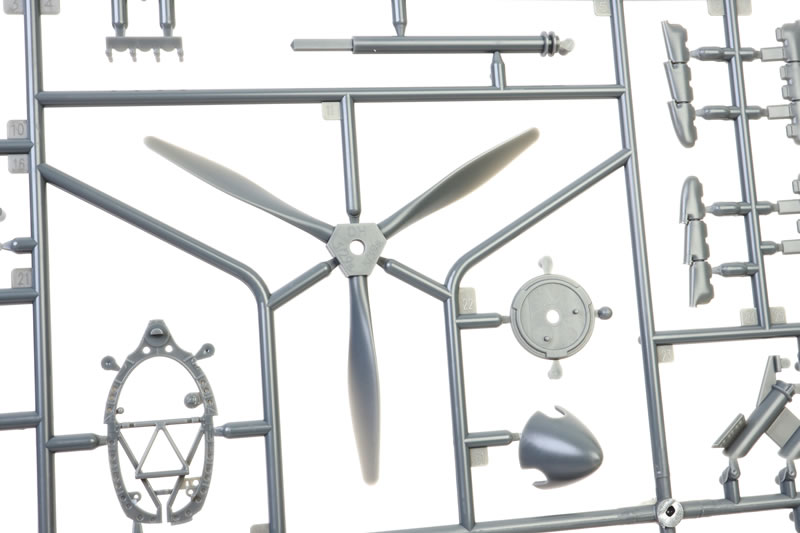 Optional mirrors and aerial masts are provided too (TR.9D and TR.1133).
The clear parts are thin and free from distortion.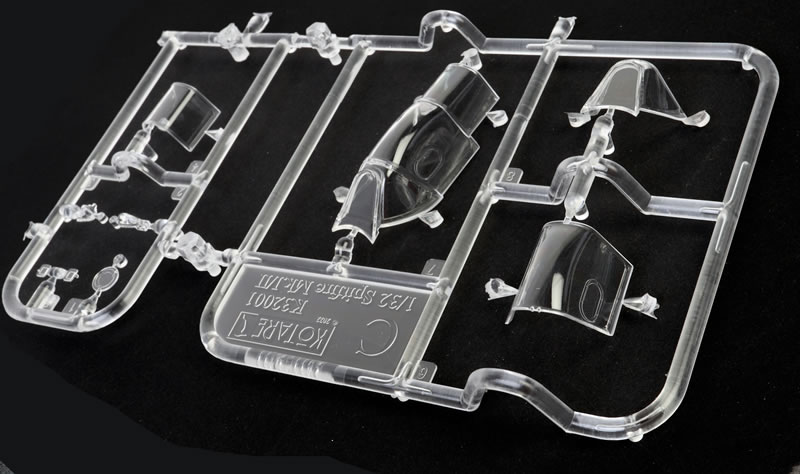 The canopy offers the choice of a single part if posed closed, or with separate windscreen, sliding section and rear for the open canopy option. The external armoured glass is moulded as part of the windscreen in both cases.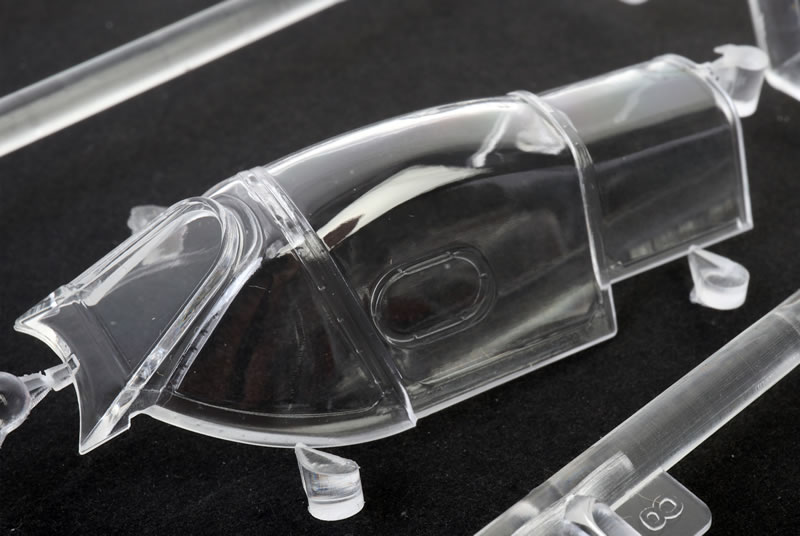 ---
Instructions and Markings
The instructions are as much an educational experience as they are assembly directions. There are many detail notes as well as helpfully captioned reference photos and illustrations throughout.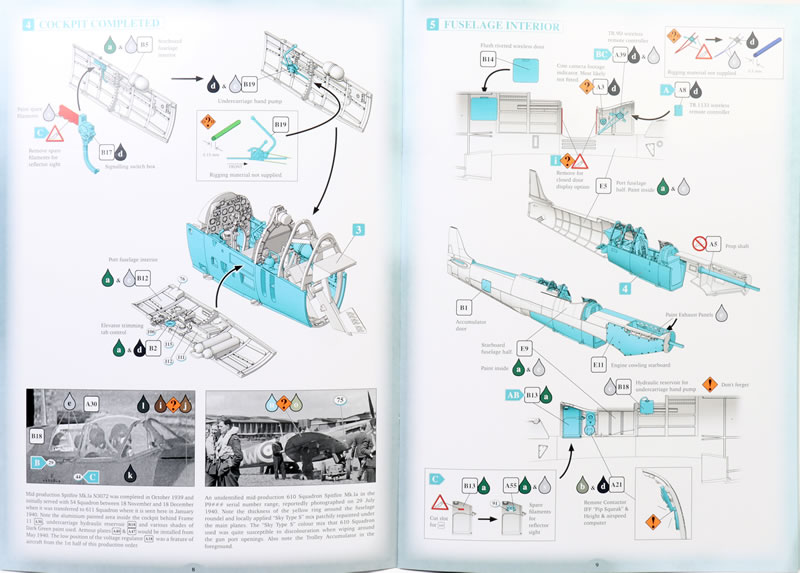 The 28 page full-colour A-4 book offers assembly instructions over 14 steps, four view colour illustrations for the three marking option plus reference photos and notes for each of the three marking options, stencil diagram and additional reference.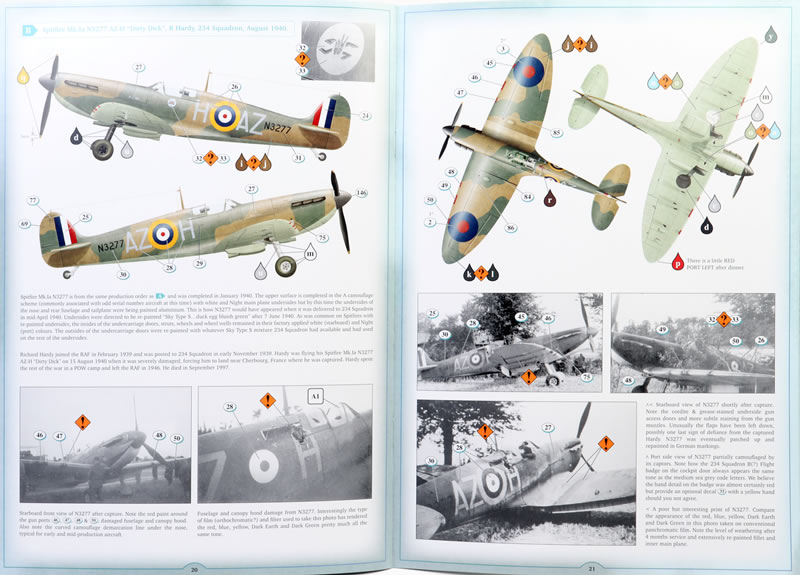 The large glossy decal sheet provides three marking options plus stencils, instrument panel decals, nicely random leading edge machine gun patches and stencils.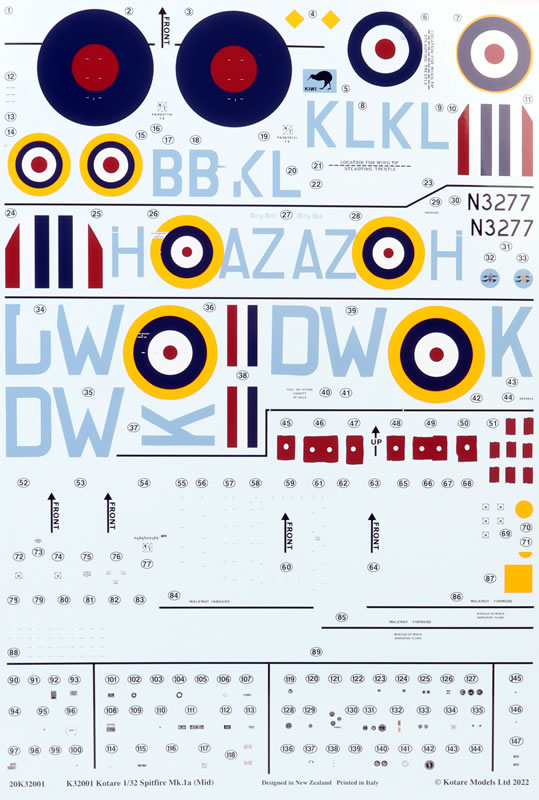 Registration and colour saturation are perfect on my sample. They are printed in Italy so presumably Cartograf – another indicator of high quality.
The codes have a bluish tint however it has been pointed out that Medium Sea Grey was not the only colour used for early Spitfire code letters. A darker and bluish grey was noted on 54 and 72 Squadron Spitfires. Here are a few examples in genuine wartime colour that were previously posted to HyperScale's Plane Talking Forum.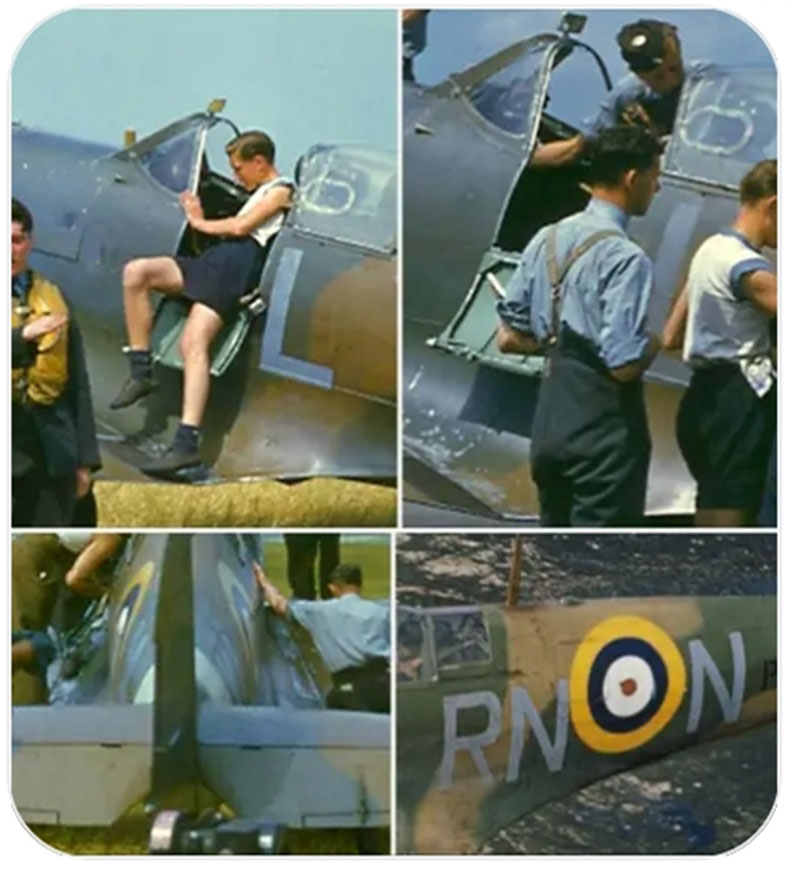 Another Spitfire?
Yes please!
Kotare Models' kit is the Goldilocks Spitfire – detail and buildability are just right.
The small parts count does not compromise detail at all. This is clearly the best 1/32 scale Spitfire Mk.I available today.
Everything you need to model a beautifully detailed Battle of Britain Spitfire mid production Mk.Ia is right here in the box.
I really like the philosophy behind Kotare Models' 1/32 scale Spitfire Mk.Ia (Mid). I can't wait to start mine!
Thanks to Kotare Models for the sample
---
Text and Images Copyright © 2023 by Brett Green
Page Created 11 May, 2023
Last updated 12 May, 2023
Back to HyperScale Main Page
Back to Reviews Page