Vans RV-4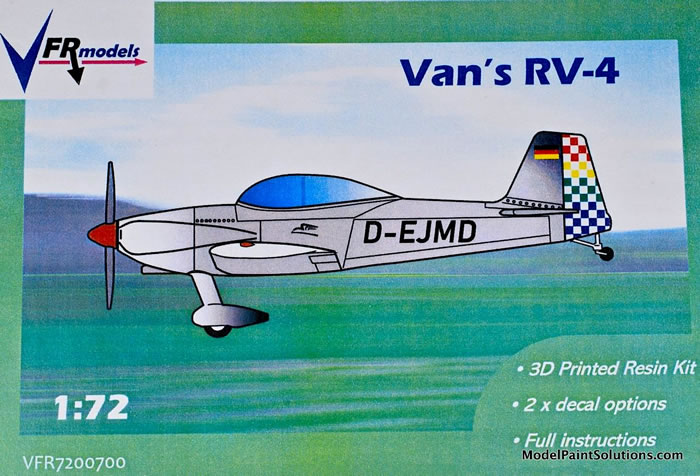 VFR Models, 1/72 scale
S u m m a r y :

Description and Item No.:

VFR Models Kit No. 7200700 - Vans RV-4

Contents and Media:

16 parts in grey 3d printed resin; one vacform canopy; decals for two aircraft.

Price:

Although currently out-of-stock, the kit is available from the VFR Models website for $29.17 plus Shipping and Handling.

Scale:

1/72

Review Type:

First Look

Advantages:

To my knowledge, this is the only RV-4 available in 1/72 scale.

Disadvantages:

The surface textures on the larger parts will require filling and blending. Some parts will require re-contouring prior to use or sourcing from the spares box and the decals are a bit rough.

Recommendation:

Highly recommended for those with a little experience.
Reviewed by John Miller

The Rans RV-4 is an American light, homebuilt, aircraft supplied, in kit form, by Van's Aircraft of Aurora, Oregon. It seats two people, in a tandem, with basic controls for both seats. The Van's RV series has become the most popular kit-built aircraft in the world and as of April 2019, the RV-4 is the fourth most popular RV model. By November of 2022, 1,446 RV-4's had been completed and flown worldwide.
(Text and Pics Edited from Wikipedia)
---
Background
Way back in the mid 1990's I spent a lot of weekends kicking around the Arlington Airport; a small, uncontrolled airfield situated just North of Seattle. This was the site of the annual Arlington Airshow and home to a vibrant aviation community that included antiques, warbirds, home-builts, and even ultra-lights.
That being the case, it wasn't hard to catch an RV-4 in the pattern on most Saturday afternoons and I always loved the looks of the bird. I was fortunate to get some stick time in one via a friend of a friend and I wasn't let down; what a touchy, spritely, sporty, little, airplane! It was as fun to fly as it looked.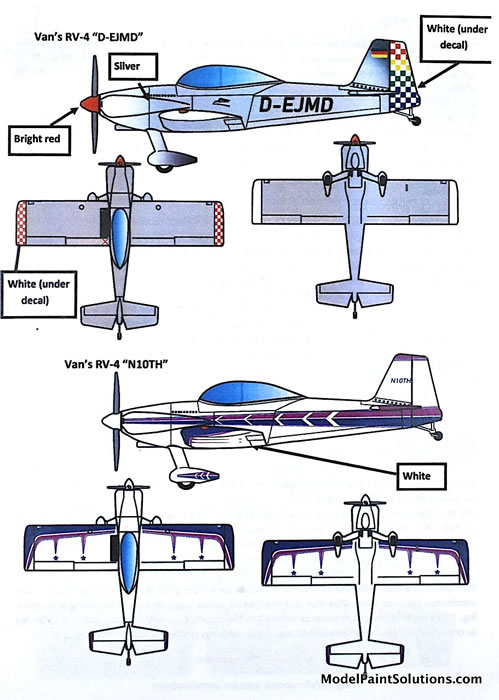 Being impressed with the plane I've wanted to add an RV-4 to my 1/72 collection for a while but until now, there wasn't much available in the one true scale. VFR Models have changed that with this 3-D printed resin kit. The overall shape of the fuselage looks to be spot-on as do the wings and gear.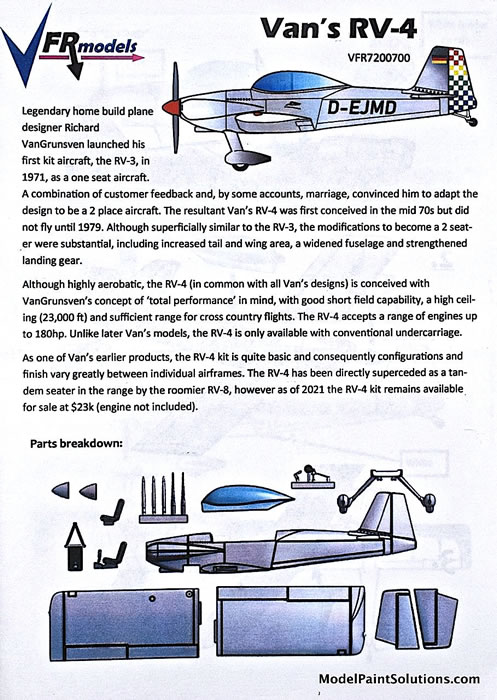 Be forewarned though, this is not going to be a shake 'n bake experience. This kit is going to take some work and a little prior experience working with 3-D printed parts would be advisable. In addition, having access to a well-appointed spares box couldn't hurt but, I'm getting ahead of myself.
The Kit
This kit comes in a small, white, cardboard box with simple box-top art. The single-piece fuselage is well executed with a good overall shape. Although the woodgrain-like surface texture looks extreme in the accompanying pictures, the parts are very smooth to the touch. That said, the surfaces of the parts will have to be filled and blended prior to painting.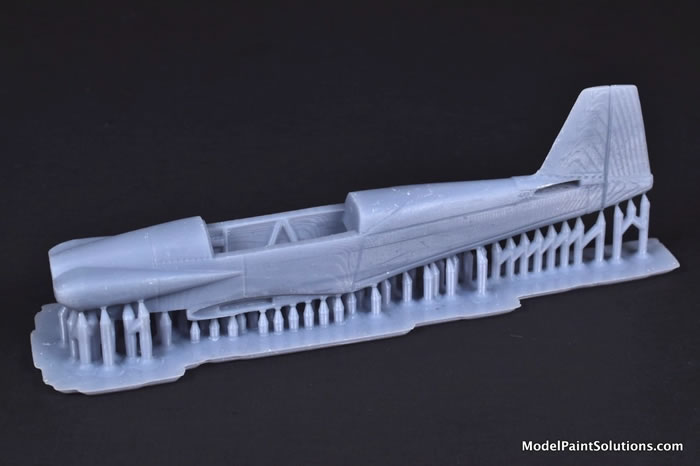 Note: I've started the VFR Models Citabria, which has the same surface texture, and have had good results using Mr. Surfacer 1,000 for filling and blending.
As with the fuselage, the wings are well done although the surface details are a bit soft; nothing a little refreshing with micro-files and sand paper won't address. Both wings in my example have bowed trailing edges and unfortunately, the aft wing root of the starboard wing isn't complete (Arrow in Pic).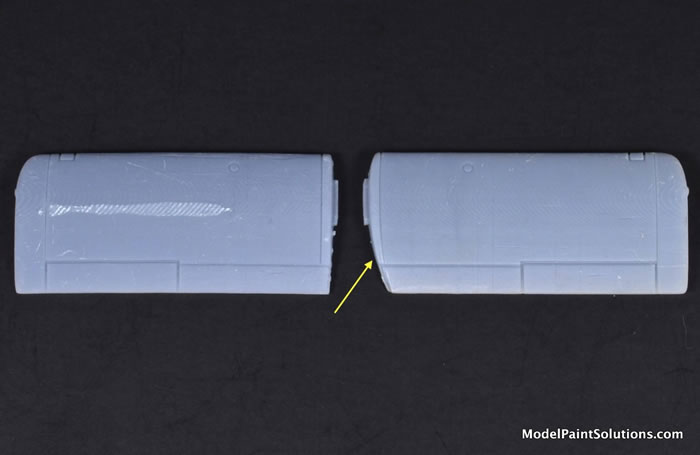 The trailing edges are easy to re-contour with a sanding stick but the missing aft wing root will require a lot a putty, sanding, and blending. In this case, I'll be using my fave structural filler, Thick CA Glue and Talcum Powder for the repair.
Two different spinners are provided, two- and three-blade. The accompanying propeller blades are the first let-down of the kit. The blades lack appropriate profiles and will require a fair amount of work to be re-contoured. This is when it's handy to have a well-stocked spares box to source replacements.
The cockpit has very nice details printed into the side panels. This is augmented with separate front and back seats and control sticks. The detail here is nice and will benefit from some careful painting and seat harnesses from that spares box.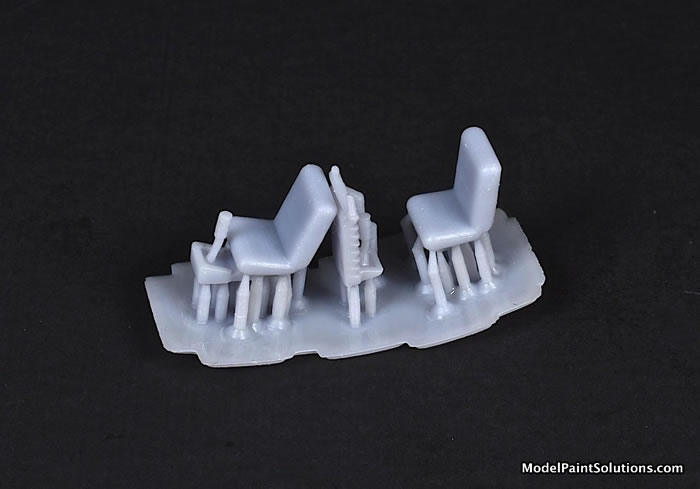 The single-piece main gear/ventral center section is well done with nicely executed wheel spats and engine exhausts.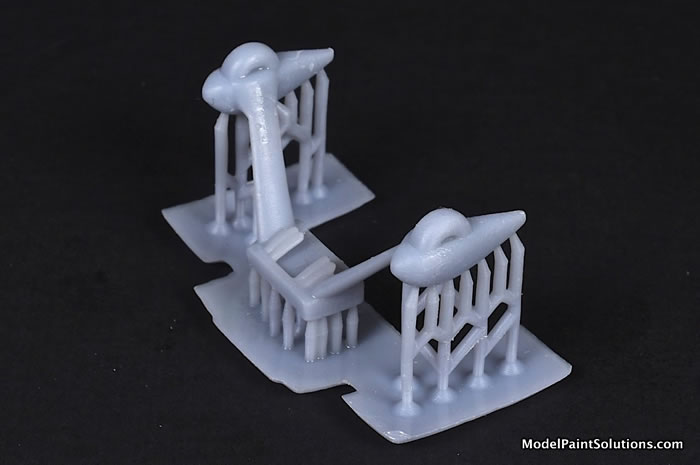 The horizontal stabilizers, are well done, if not a bit soft in detail. I suspect refreshing with, files, sandpaper, and scribing tools will go a long way to addressing this.
The nicely formed canopy is (cue the dramatic music) vacform!
Now, bottom line: I don't like working with vacuform canopies. That said, after doing multiple limited-run kits over the years, I can usually get 'er done and make it look good enough. However, those that don't like working with vacuform canopies, may want to stay clear.
---
Markings
One sheet of decals is provided with markings for two airframes, "D-EJMD" and "N10th."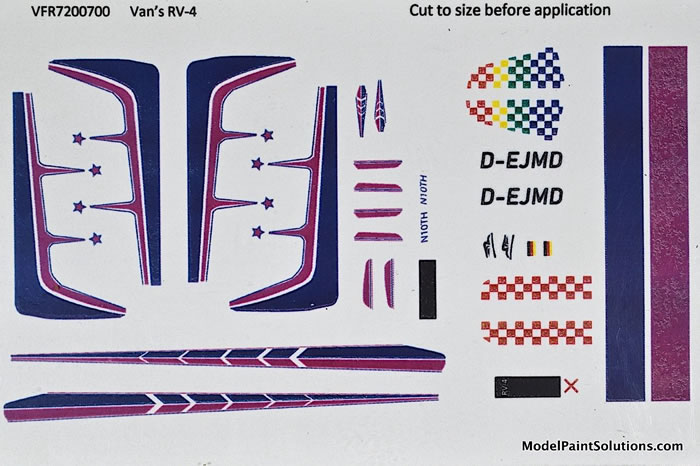 The decals in my example are rough with markings that aren't in register with variable color density.
This is a very neat kit. I like it. It is, however, and a bit of a mixed bag.
If you're an experienced modeler (even better, one with some experience with 3d printed parts), I suspect you'll find this kit to be a blast, even moreso if you're blessed with a well-appointed box of spare parts.
In contrast, if you're new to the sport of 3-D printed parts and vacuform canopies, you may want to hold-off until you've got a few more built kits in the display cabinet.
Highly recommended for those with a little experience.
For more on this review visit Modelpaintsolutions.com:
https://modelpaintsol.com/reviews/vfr-models-1-72-rav-4
---
Review Text and Images Copyright © 2023 by John Miller
Page Created 17 August, 2023
Last updated 18 August, 2023
Back to HyperScale Main Page
Back to Reviews Page